Apoint Dr. I.Y Opoku as Deputy Agric Minister – Group pleads with President
Apoint Dr. I.Y Opoku as Deputy Agric Minister – Group pleads with President
In the Ashanti Region, a pressure group in Offinso South Constituency, Intellectual Youth Patriots and Concerned Youth of Offinso South is appealing to the President of the republic of Ghana, His Excellency Nana Addo Danquah Akufo Addo to appoint Hon. Dr. I.Y Opoku the Member of Parliament for Offinso South Constituency among his ministers in his second term administration.
According to the group, Hon. Dr. I.Y Opoku has served remarkably well under the Ghana COCOBOD, having held some principal positions namely; CODAPEC (Cocoa Diseases and Pest Control), Black pod Co-ordinator, Executive Director under the seed Production Division, Managing Director under Quality Control Company Limited and as an Executive Director under the Cocoa Research Institute.
with all these knowledge he has acquired in the Agric sector, it's indeed rightful for H.E Nana Addo Dankwa Akufo Addo to appoint him to serve at the Agric Ministry; the group pleaded.
" We do appeal with His Excellency to appoint our member of parliament at the Agric Ministry. We know Dr Osei Akoto heads the ministry so a Deputy ministerial position will be enough for Hon. Dr. I.Y Opoku because of his knowledge and his experience in the Agric sector."
They emphasized that, his competency even before becoming a Member of Parliament depicts he can deliver if he is given the chance to perform.
Attached are some achievements and policies he started before the 2020 general elections.
INTELLECTUAL YOUTH PATRIOTS
OFFINSO SOUTH CONSTITUENCY
HON. DR. ISAAC YAW OPOKU OUGHT TO BE GIVEN A MINISTERIAL POSITION.
REASONS
SOME OF THE ACHIEVEMENTS AND PROPOSED POLICIES OF HON. DR.I Y OPOKU
NATIONAL LEVEL
National CODAPEC (Cocoa Disease and Pest Control) black pod coordinator.
Executive Director: Seed production Division.
Quality Control Company Ltd: Managing Director.
Executive Director: Cocoa Research Institute.
    NOTE:
In the history of Ghana Cocoa Board, Dr. I Y Opoku and Dr. Adu Ampomah are the only
Directors who were given contracts after their active service.
Hon. Dr. I. Y. Opoku is very humble.
Hon. Dr. I. Y. Opoku is indefatigable when it comes to administration.
Hon. Dr. I. Y. Opoku is extremely selfless.
Hon. Dr. I. Y. Opoku is incorruptible.
Hon. Dr. I. Y. Opoku is a listening leader.
Hon. Dr. I. Y. Opoku's main motive for entering politics is to transform Offinsoman and
leave a remarkable history for future politicians across the country.
OFFINSO SOUTH (CONSTITUENCY LEVEL).
      ONGOING COCOA ROADS
Bonsua Road (Kokote to Wawase): 24 and half Kilometer.
Anyenasusu Camp to Abofour Kyebi Road.
COCOA ROADS CURRENTLY WITH CONTRACTORS
1. Abofour Kwapanyin to Asubore Road.
Abofour Kyebi to Berekum Road.
POTABLE WATER (PROMISED 12 BOLEHOLES DURING THE 2020 CAMPAIGN).
     COMPLETED (6)
Samproso(1)        2.Abrokyire(1)         3.Awisem(1)        4.Asuboe(1)             5.Kwapanyin(2)
TO BE DELIVERED SOON (6)
Adukro 2.Ampabame 3.Dome       4.Asamankama      5.Ayensua Fufuo.     6. Adiemmra
EDUCATION (Delivered).
Uncountable bags of cement have been given to various schools within the constituency to support infrastructural projects.
EMPLOYMENT OPPORTUNITIES(Delivered).
Three hundred and twenty seven (327) people from the constituency have been employed at
Ghana Cocoa Board. Note: This covers both permanent and contract.
Security services: Immigration (1)         Police (5)          Prisons (2)           Fire Service(3).
The police and the fire service officials are currently at their various training centers.
HOUSING (Proposed).
One hundred and fifty (150) building plots of land have been secured at Ayensua Fufuo for undertaking of real estate projects.
COMMUNITY DEVELOPMENT (Proposed).
Two hundred plots of land have been secured at Abofour (near the market) for the undertaking of developmental projects.
OFFINSOMAN DEVELOPMENT ASSOCIATION (Proposed).
MOTIVE: Undertaking of numerous developmental projects within the constituency.
KEY MEMBERS: Chiefs, Pastors, Imams and all other groups in the constituency who
believe in societal development.
INFORMATION COMMUNICATION TECHNOLOGY CENTER (Proposed).
An ultra-modern I.C.T center will be instituted in the Constituency.
Motives
To facilitate learning.
Keeping of particulars of graduates for easy job search assistance.
Keeping the particulars of polling station executives and other dedicated party sympathizers.
J.TRANSPARENCY IN COMMON FUND ISSUES (Proposed).
PAYING MUCH ATTENTION TO THE WELFARE OF THE YOUTH (Proposed).
BUILDING OF PARTY OFFICE (Proposed).
A plot of land has been secured at Adukro for the building of party office. Under this project,
offices will be available for all the constituency executives of the party.
INSURANCE FOR DELIGATES (Proposed).
OFFICE OF THE STRATEGIC AFFAIRS OFFICER
INTELLECTUAL YOUTH PATRIOTS
OFFINSO SOUTH CONSTITUENCY
Source: www.ghanapublisher.com
Man Vomits Money Profusely During A Ritual Process (VIDEO)
A young man has been caught in a viral video vomiting money during an alleged ritual process.
The viral video which is currently making rounds on social media has exposed a lot of crazy things these young men go through just to drive the nicest cars in town.
The video captures a young man believed to be in his early 20s vomiting money into a calabash.
A calabash full of money purportedly from the mouth of the young man is seen sitting right in front of him while he continues to vomit.
It is believed to be a ritual process that was recorded and later leaked online.
Watch the video below;
PLEASE HELP! The Shocking Thing I Saw In My Father's Wardrobe (Should I Be Worried?)
Hello guys, the background behind this story is lengthy so to spare you the trouble I'll jump straight to the point.
My father although he has his flaws is a very religious, and I dare say principled man in some aspects.
He never misses church service. Went to bible school.
At one point he was even a house fellowship leader. He prays and fast often.
So on this day I was standing in the doorway to my dads room.
He wanted to send me on an errand "I think", so he opened his wardrobe to get the money.
Immediately he opened his Wardrobe I saw a BAT…yes BAT hanging upside down right there in his wardrobe.
In shock, I jumped and shouted
"daddy see bat see bat !!!".
Guess what he did. He simply smiled and gently closed his wardrobe.
I have never been this confused. I saw a bat hanging upside down in his Wardrop and all he did was smile and gently closed the door.
I don't know what to make of it. I have already concluded, there is no way on earth this is from God.
Up until this time I have never seen a bat up close in real-time.
The closest I've been was to watch them on television. Contemplate how scared and confused I am now.
I picked up an excuse and ran out of the house to go stay with my relative. It's been a week since I left, and I'm still too scared to go back.
What do you folks make of this? How can a man who prays and fast and attends bible school have a BAT in his wardrobe? WTF !!
What Do You Think I Should Do?
'World's Dirtiest Man': Amou Haji Is An 87-Year-Old Man Who Hasn't Bathed In 67 Years
It's winter season and bathing seems like a task, doesn't it? Well, how long can you go without showering? A day or two maximum? Turns out, you are nowhere close to this man who hasn't bathed in over six decades.
Amou Haji is an 87-year-old man and he hasn't taken a bath in 67 years. He resides in Dejgah which is a village in the Kermanshah province of Iran. He also looks like the Biblical Moses who fell down a chimney. 
Republic News Agency
He is always covered in ash and dirt. He hasn't taken a bath for nearly seven decades because he is scared of water. He is of the belief that if he will bathe, he will fall ill.
What is even more unusual is that his diet consists of rotten meat of dead animals, especially porcupines. He also enjoys smoking but it is not tobacco he prefers. He likes to smoke animal feces out of a rusty pipe.
According to Tehran Times, Haji decided to live an isolated life after he went through some emotional setbacks in his youth.
He wears a war helmet not to fight off enemies but to keep him warm during winters.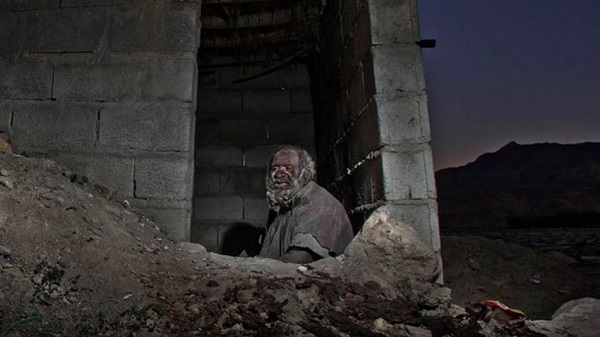 Human beings are complicated creatures.