Bono Region: Man Who Stole Astroturf To Decorate His Room Jailed 7 years
One of the people arrested for ripping up parts of the astroturf at Drobo-Faaman in the Bono Region has reportedly been jailed for seven years.
Journalist, Saddick Addams, who broke the initial story, reported that a 21-year-old, Gideon Asuako, one of the people who was detained for the act had been imprisoned.
According to Adams, the suspect was charged with three counts of unlawful entry, unlawful damage, and stealing, and put before the Berekum Circuit Court.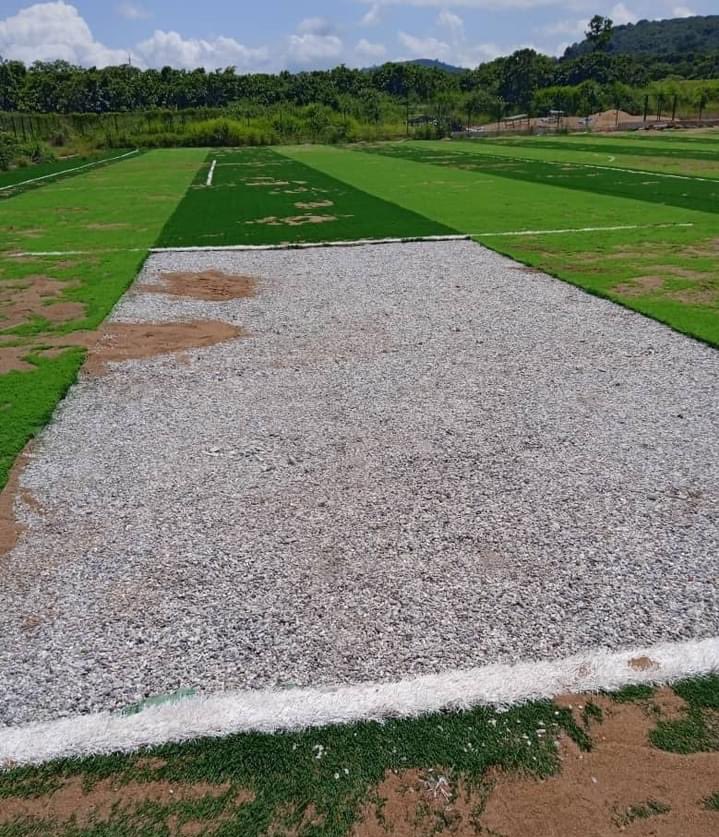 Asuako pleaded guilty to all three charges and was sentenced on his own plea.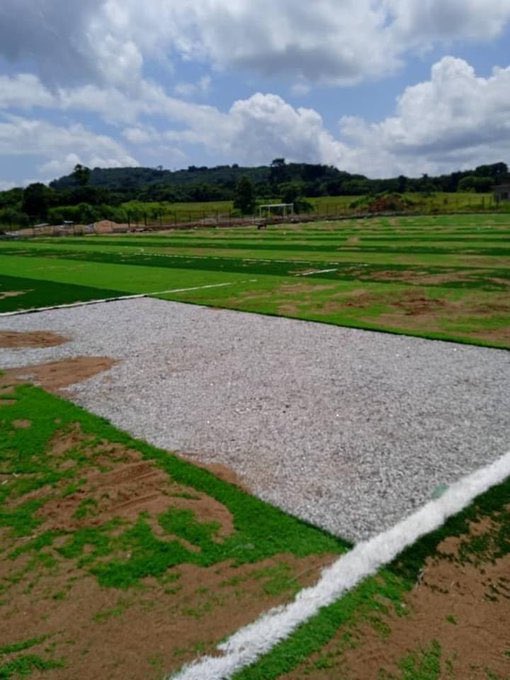 "The Berekum Circuit Court presided over by His Lordship Osei Kofi Amoako has sentenced a 21-year-old resident of Dwenem in Jaman South Municipality, Gideon Asuako, to 7 years imprisonment for stealing.
"A prison officer friend at Sunyani confirms to me he has just been brought there to begin his sentence," Adams tweeted.
See also
Court of Appeal To Dr. Kwabena Duffuor: Receiver Can Testify Against You
The alleged thieves were caught in their rooms where they had reportedly used the parts of the turf as carpets.
Adams posted images of the damaged pitch, adding in a subsequent tweet that he had been informed by the Obaahemaa of Faaman that the culprits had been arrested after a search.
"A search party was put together and they found parts of the artificial pitches in the rooms of the thieves used as decoration," he tweeted.
Lots of people on Twitter found the incident humorous and wondered why anyone would steal astroturfs to decorate their rooms.
Source:  MyGhanaMedia.com
NPP 2022 Conference, Defeated Musah Superior Goes To Thank You Tour
NPP 2022 Conference, Defeated Musah Superior goes for thank you tour – Ghanapubliser.com
The Deputy Chief Executive Officer for Ghana Forestry Commission, Hon. Iddrisu Musah, affectionately known as Musah Superior has indicated to embark on a thank you tour after his defeat.
The former Tamale Mayor, who contested to become NPP General Secretary with four other aspirant at the just ended NPP 2022 annual delegates conference was defeated after gunning 104 votes which placed him 3rd among the other four General Secretary aspirants.
Hon. Musah Superior announced on his social media platforms that, despite his lost, he will go on a nationwide tour in various Constituencies to appreciate the delegates.
The announcement has become a discussion on social media because this act is not usual in Ghana politics.
Below are the new NPP National Executives;
Don't attempt to rig the elections- Musah Superior to NPP National Executives
The deputy C.E.O of Ghana Forestry Commission, Iddris Musah, affectionately called Musah Superior have warned the incumbent NPP National Executives not to attempt rigging the national elections which will take place on 15th to 17th July this year.
The former Tamale Mayor, have on several occasions preached against the re-election of any of the incumbent national executives who seek to be re-elected.
According to the General Secretary aspirant, the current national executives of the New Patriotic Party's abysmal performance produced the hung parliament we have today which is making governance difficult for the Akufo Addo administration.
The aspirant 10 points plants for the administration of the party when elected. Will seek to recognize the party to restore trust, hope and faith in party foot soldiers who has lost interest in the elephant family.
I knew Akufo-Addo will fail when his speech was plagiarised – Lydia Forson
Actress Lydia Forson says she knew the Nana Addo Dankwa Akufo-Addo led administration will be a sham immediately the President's first speech was plagiarized.
She said if the president had made some "heads roll" she would have had hope but he kept everyone involved in the stealing; an indication of failure.
The actress' tweet read "When our president didn't fire Eugene Arhin for plagiarizing his inaugural speech; you should've known things were going downhill from there. Plagiarism is literally stealing someone's work and passing it off as your own. Stealing oh, but he was kept there to continue".
Lydia Forson has been on the neck of the NPP government holding them accountable for every action.
She says the party whiles in opposition taught the people of Ghana how to demand accountability and therefore, they are being held accountable just like they did in opposition.
Her advocacy has been top-notch and has influenced some decisions in Ghana and beyond.
"Each time the NPP laments over how the minority frustrates their efforts,I wonder if they're that out of touch. Mahama couldn't fart without y'all threatening demonstrations; your petty was unmatched. YOU are the reason we're all on your necks; you laid the foundation."
It could be remembered that some parts of the President's first speech while he was been sworn in as President was plagiarized. The content was picked from speeches of some American presidents without references given.
Source: MyNewsGh.com/ 2022