Full documents: Airbus admits paying bribes in Ghana under Mills-Mahama era – ghanapublisher.com
Aircraft manufacturer, Airbus, has confessed to paying bribes in Ghana and other countries between 2011 and 2015 in a corruption investigation of its business deals dating back more than a decade.




Court documents obtained by theghanareport.com show that Europe's largest plane maker has been fined 3 billion pounds for greasing the palms of public officials and fixers over a string of hidden payments as part of a pattern of worldwide corruption to facilitate the sales of its wares.




According to The Guardian, the "planemaker agreed to pay the penalties on Friday after reaching settlements with investigators in the UK, France, and the US to end inquiries that started four years ago."
The UK-based newspaper reports on the outcome of the UK's Serious Fraud Office (SFO) investigation that "Allison Clare, for the SFO, told the court the company had paid bribes in Malaysia, Sri Lanka, Indonesia, Taiwan and Ghana between 2011 and 2015."




The company is reported to have "used a network of secret agents to pay large-scale backhanders to officials in foreign countries to land high-value contracts."
Ghana between 2011 and 2015 acquired three Airbus C295 from the company as part of an effort to augment and modernise the fleet of the Ghana Armed Forces.
The first order of the military aeroplane arrived in Ghana on  November 17, 2011, followed by a second on March 19, 2012. The last order came in on December 4, 2015.




In November 2014, President John Dramani Mahama announced that Ghana would acquire an additional C295, in addition to other aircraft, including five Super Tucanos, Mi-17s and four Z-9s.
Ghana is said to have spent about $150 million on the three aircraft. One of them recently overshot its runway. The Defence Ministry explained that the accident happened because the aircraft had not gone for its scheduled maintenance.




In Ghana, Airbus is accused of hiring and disguising payments to a close relative of a government official with no aerospace experience in connection with a sale of military transport planes, the UK's SFO investigations revealed.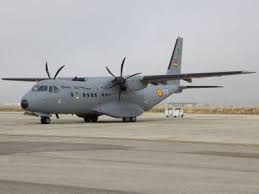 Prosecution's case on Ghana
The UK prosecutor case against Airbus was that between 1 July 2011 and 1 June 2015 Airbus SE  failed to prevent persons associated with the company from bribing others concerned with the purchase of military transport aircraft by the government of Ghana.
The bribery, the document said was intended to obtain or retain business or advantage in the conduct of business for Airbus.
According to the court document between 2009 and 2015 an Airbus defence company engaged an unnamed person, only identified as Intermediary 5, a close relative of a high ranking elected Ghana government official (also not named but referred to as Government Official 1), as its business partner in respect of the proposed sale of three aircraft to the government of Ghana.




"A number of ofAirbus employees knew that Intermediary five was a close relative of Government Official 1, a key decision-maker in respect of the sales.
However, "a number of Airbus employees made or promised success based commission payments of approximately €5 million to Intermediary 5.
"False documentation was created by or with the agreement of Airbus employees in order to support and disguise these payments. The payments were intended to induce or reward improper favour by the Government Official 1towards Airbus," the document suggests.




"Intermediary 5 is a UK national born in Ghana. He was brought to the United Kingdom as a young child and lost touch with his Ghanaian family until the late 1990s. He had no prior experience or expertise in the aerospace industry. A "CV" provided to Airbus in 2011 listed Intermediary 5's employment before 2009 as an events manager for a local authority, director of a football merchandising company and facilities manager for an estate management business," the document said.
Airbus agreement with the United Kingdom, France and the United States of America is effectively a plea bargain that insulates the company from criminal prosecution that would have banned it from bidding for public contracts in the US and the European Union.
The fine is said to be the biggest corporate fine for bribery and will be shared among France, UK and the United States, the three countries that have worked on the investigation.




Airbus, which is also a military supplier was slapped with five charges under the UK's Bribery Act over allegations that it failed to prevent firms from being offered financial incentives to buy planes and other equipment.




READ THE GHANA PART OF THE 40-PAGE REPORT
I've recently been defrauded to the tune of $7 million – Kennedy Agyapong laments
Assin Central Member of Parliament, Kennedy Agyapong, has disclosed that he has landed in a botched business that has seen him swindled to the tune of US$7 million by a young man.
According to him, in the line of business, no matter how shrewd a person is; losses and other challenges can pop up but that it was how a person handles it that determines how good a businessperson they are.
GhanaWeb monitored comments Agyapong made on Net2 TV's 'The Attitude' show on August 20 where he revealed that the 'fraudsters' who are messing with him will soon know who they are up against.
"Even for me, things are not so smooth for me as you think. I told you last week that I have bought machines worth 7 million dollars for some young boys, they have swindled me, they are still on it, they haven't changed.
"Their time will come, my message is that when I was advancing them the money to buy the canon machines, if that was all I had, I wouldn't have given them that money. So I will eat, what pains me is that a 39-year-old boy will swindle me, a 61-year-old man."
According to him, now that he is plotting to hit back at the fraudsters, "people are begging, people are still begging. People I respect are begging, you see why Ghana is not progressing?" he quizzed.
He vowed to go after the boys and to collapse their business, a fight back that he said he had started by cutting their sources of supply and business.
Agyapong, however, remains undaunted by the incident, stressing that he will continue to run his businesses and to make investments because that was a sign of a businessman who understands the ups and downs that come with the trade.
"I will not let them demoralize me…. I'm still investing. I am business-wise already but I have grown wiser. If you see a Ghanaian dying, let him die…. Nana Boadu (he gave the names of one of the boys) will not know what is coming upon him.
"But I will not let those boys collapse me, they are very evil, I know of two but I am told they are three… I will retrieve every pesewa of mine from those small boys, they will never swindle me this badly.
"I will take action and I don't care, because I will not let him take me for granted ever. I usually pass my hand over my head. My head is boiling because I am so pained that the boys have been able to swindle me that bad," he lamented.
Chaos: Agbogbloshie scrap dealers fires shots at police over de-congestion exercise – ghanapublisher.com
The scrap dealers at Agbogbloshie in Accra are resisting the decongestion exercise by the Greater Accra Regional Coordinating Council.
The scrap dealers and onion traders at Agbogbloshie are being relocated to Adjen Kotoku to help free the congestion in the central business district of Accra as part of the agenda "Make Accra work again" initiated by the Greater Accra Regional Minister, Mr Henry Quartey.
Graphic Online's reporter Joshua Bediako Koomson who is with the team undertaking the exercise reports that the de-congestion exercise started Thursday morning was moving smoothly until the team arrived at the scrap dealers section.
The dealers set used vehicle tyres ablaze in protest against their removal from the spot.
According to our reporter Joshua Bediako, "They are firing shots and throwing stones at the security personnel."
"They also started burning tyres", he added.
He said the exercise aimed at removing onion traders and scrap dealers to Adjen Kotoku was peaceful until they reached the scrapyard.
The scrap dealers argued that they were not served any notice to vacate the place.
"So the military had to intervene by firing warning shots to disperse them," he added.
Source: graphiconline
Calm down and support Prez. Akkufo Addo – Nana B to Ejura Youth – ghanapublisher.com
NPP YOUTH WING APPEALS TO EJURA YOUTH TO CALM DOWN, SUPPORTS PREZ AKUFO-ADDO's DIRECTIVE FOR PUBLIC INQUIRY
The National Youth wing of the New Patriotic Party has learned with profound concern reports of the alleged murder of Ibrahim Mohammed aka Kaaka and the unfortunate death of two protesters in Ejura in the Ashanti Region.
At the outset, we condemn in no uncertain terms the alleged mob attack that led to the untimely death of Kaaka and also the use of disproportionate force by the joint security force against the rampaging youth in Ejura.
We sincerely sympathize with the families of the deceased and pray that the good Lord comfort and strengthen them in the difficult times they find themselves.
As agonizing and regrettable as the death of these three individuals are, the Youth wing, in all humility, appeals to the youth in Ejura to calm down and tread a path that engenders peace, love and unity to honor the memories of the dead.
As youth we hold the key to the future of our great nation and we cannot jeopardize this great task by resorting to instant retaliation and violence which threatens the peaceful coexistence in our country.
We welcome and support the directive from H.E. Nana Addo Dankwa Akufo-Addo to the Minister of Interior, Hon. Ambrose Dery, MP, to immediately conduct Public Inquiry into the circumstances that led to the unfortunate occurrences on Tuesday, 29th June, 2021.
Again, we add on to the numerous calls on the Police to expedite investigations into the unfortunate death of Kaaka and serve justice to him and the bereaved family by bringing the perpetrators to book.
That said, It is deeply worrying that the opposition NDC seeks to use these very unfortunate and tragic occurrences as an opportunity to undermine the peace and progress we have collectively attained in almost 30 years of our democracy, admired and spoken about in the Sub-Region.
As citizens of Ghana and as Youth, it is our duty to denounce and condemn such statements which rather weakens our strength as a nation in fighting atrocious acts.
We must take up the call for social justice in an appropriate manner which ensures that all are protected and we contribute in the collective effort to support the peace process.
Once again, we solemnly commiserate with the families, friends and loved ones of the deceased and wish the injured a speedy recovery.
Thank you
…Signed…
Henry Nana Boakye
(National Youth Organizer, NPP)