Ghanaian, Isaac Andoh jailed 25 years in UK for raping two white girls – ghanapublisher.com
A churchgoing paedophile who 'stole the childhoods' of two little girls after subjecting them to a sickening campaign of rapes and sexual abuse has been jailed for 25 years.




Isaac Andoh, 43, was described as 'every parent's worst nightmare' as he was put behind bars at Manchester Crown Court today (January 20).
The court heard how Andoh, from Openshaw, preyed on the girls from early 2018 to mid-2019.
He groomed one girl and 'made her feel special', taking her to McDonald's for her favourite food before raping her.
He forced her to watch pornographic films with him and made her copy what she had seen on screen, the court heard.




The paedophile, who was a regular churchgoer, then went on to sexually abuse another young girl.
He told both victims that the vile abuse was 'their secret'.
The horrific abuse came to light when a girl told a family member what Andoh had been doing to her.




Now, the 'predatory, cunning and manipulative paedophile' has been jailed for 25 years by a judge.
He was found guilty of 17 sexual offences – including three counts of rape – after a trial in January.
Prosecutor Nicola Gatto told the court how 'steps were taken' by Andoh to prevent the girls from reporting what had been happening to them.




"The defendant had said that this was 'their secret' and even made a 'secret gesture' with them where he would join their hands in the shape of a love heart", Ms Gatto said.
Defending, Aisha Khan invited the judge to pass the 'lowest possible sentence' that she could for her client, who had no previous convictions.
But Judge Hilary Manley said that given the seriousness and nature of the offences, Andoh's previously good character was of 'no weight' in this case.




Sentencing, Judge Manley told Andoh: "I have to sentence you for grave crimes which you have committed against two little girls.
"You were and are a predatory, cunning and manipulative paedophile – every parent's worst nightmare."
Of Andoh's targeting of one girl, the judge told him: "You made her feel special, you took her to McDonald's to buy the food she liked and then you began sexually abusing her.
"You told her this was your secret and even made a secret hand gesture with her.




"What you did to these two girls was and is unforgivable.
"You begged for these matters not to be brought to the police then brought it to a trial, but the jury saw through your ludicrous and cowardly defences.
"You have stolen childhoods and both of your victims have been affected by this.
"It's abundantly clear to me that you have no remorse at all."




Andoh, of Toxteth Street, was convicted of 17 offences.
The offences were: three counts of rape of a child under 13, three counts of assault by penetration of a child under 13, 10 counts of sexual assault of a child under 13 and one count of causing a child to watch a sexual act.




Andoh was made subject of a Sexual Harm Prevention Order – preventing him from having any unsupervised contact with a child – and was ordered to sign the sex offender's register for life.
After the sentencing, Detective Constable Emma Cooper, of GMP's City of Manchester division, said: "Thanks to the brave testimony of the girls involved, we have brought the perpetrator of these sickening attacks to justice.




"The psychological impact of crimes such as this can be considerable but we hope today's sentence brings some degree of closure now that Andoh is behind bars – where he belongs.
"We will always take reports of this kind of crime extremely seriously and we'd encourage anyone who feels they have been the victim of such offences to get in touch with police."
Man Vomits Money Profusely During A Ritual Process (VIDEO)
A young man has been caught in a viral video vomiting money during an alleged ritual process.
The viral video which is currently making rounds on social media has exposed a lot of crazy things these young men go through just to drive the nicest cars in town.
The video captures a young man believed to be in his early 20s vomiting money into a calabash.
A calabash full of money purportedly from the mouth of the young man is seen sitting right in front of him while he continues to vomit.
It is believed to be a ritual process that was recorded and later leaked online.
Watch the video below;
PLEASE HELP! The Shocking Thing I Saw In My Father's Wardrobe (Should I Be Worried?)
Hello guys, the background behind this story is lengthy so to spare you the trouble I'll jump straight to the point.
My father although he has his flaws is a very religious, and I dare say principled man in some aspects.
He never misses church service. Went to bible school.
At one point he was even a house fellowship leader. He prays and fast often.
So on this day I was standing in the doorway to my dads room.
He wanted to send me on an errand "I think", so he opened his wardrobe to get the money.
Immediately he opened his Wardrobe I saw a BAT…yes BAT hanging upside down right there in his wardrobe.
In shock, I jumped and shouted
"daddy see bat see bat !!!".
Guess what he did. He simply smiled and gently closed his wardrobe.
I have never been this confused. I saw a bat hanging upside down in his Wardrop and all he did was smile and gently closed the door.
I don't know what to make of it. I have already concluded, there is no way on earth this is from God.
Up until this time I have never seen a bat up close in real-time.
The closest I've been was to watch them on television. Contemplate how scared and confused I am now.
I picked up an excuse and ran out of the house to go stay with my relative. It's been a week since I left, and I'm still too scared to go back.
What do you folks make of this? How can a man who prays and fast and attends bible school have a BAT in his wardrobe? WTF !!
What Do You Think I Should Do?
'World's Dirtiest Man': Amou Haji Is An 87-Year-Old Man Who Hasn't Bathed In 67 Years
It's winter season and bathing seems like a task, doesn't it? Well, how long can you go without showering? A day or two maximum? Turns out, you are nowhere close to this man who hasn't bathed in over six decades.
Amou Haji is an 87-year-old man and he hasn't taken a bath in 67 years. He resides in Dejgah which is a village in the Kermanshah province of Iran. He also looks like the Biblical Moses who fell down a chimney. 
Republic News Agency
He is always covered in ash and dirt. He hasn't taken a bath for nearly seven decades because he is scared of water. He is of the belief that if he will bathe, he will fall ill.
What is even more unusual is that his diet consists of rotten meat of dead animals, especially porcupines. He also enjoys smoking but it is not tobacco he prefers. He likes to smoke animal feces out of a rusty pipe.
According to Tehran Times, Haji decided to live an isolated life after he went through some emotional setbacks in his youth.
He wears a war helmet not to fight off enemies but to keep him warm during winters.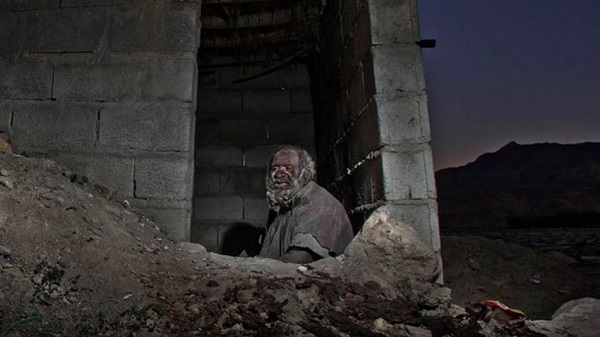 Human beings are complicated creatures.