Kan Dapaah in a video with girlfriend is not corruption, Let him be – GISAC Directer, Samuel Nana Appiah Owusu – ghanapublisher.com
A video of Ghana's National Security Minister, Albert Kan Dapaah leaked on social media this morning showing him in a sweet-talk with a woman who is not his wife.
The footage which is a video call recorded by the the said lady details a love-struck Kan Dapaah who helplessly takes orders from the lady whose face is not captured in the conversation.
The 66-year-old National Security boss who appeared to be in Europe on assignment was clad in a dark-blue dotted pajamas which he flaunted upon request by the unidentified lady.
Some Ghanians have laughed it off while others are calling for his resignation, a Controversial musician now turned politician, Kwame Asare Obeng, popularly known as A Plus, has added his voice to those who wants the minister to resign with immediate effect.
The Executive Director of Global Intelligence and Security Analysis Center (GISAC), Mr. Samuel Nana Appiah Owusu has detailed below why the minister has indeed done nothing wrong, morally, legally, and by conditions of his office and therefore there's no need to call for his resignation.
Hon Albert Kan Dapaah did not break any law or code of conduct.
Many people have called to ask my express opinion and professional
analysis of the video circulating on social media involving the Hon Minister for national security, Mr Albert Kan Dapaah.
To be able to respond professionally and intelligently I needed to watch and study and do critical analysis of the content of the said video.
My first response is that the management of our national security cyber system have woefully failed us as a country in this regard. I believe that this video got circulated deliberately for an ill motive to be achieved therefore the handlers of the cyber space should have been proactive in disallowing the circulation of the video.
After careful study and analysis of the video I don't think the Hon Minister has done anything in contravention of the laws of Ghana or against his code of conduct in office.
First of all, the action in the video is seemingly done and in every 24 hours men and women display affection and love among themselves, these actions are done in so many ways,.
The Hon Minister having a video chat with his girlfriend has not engaged in corruption by that act, he has not breach any code of conduct that forbid him from having a girlfriend. In the said video there is no anywhere he divulged any national security sensitive information, neither did he disclose any classified information to the girl in the chat.
Again the video does not suggest the least that the minister was using his office to solicit sexual favors from the woman. There is no where in the video that suggest again that the minister promised any favors for the woman by the authority of his position.
Ghana does not have any law that prevent appointees from having legitimate legally mature women as second wives. So what is his crime for chatting with his girlfriend and showing her how he is dressed.
As a country I am of the strongest believe that we should strengthen our cyber security system to enable us protect our officials from blackmailing and also to boost the confidence of investors. It is regrettable that such video got it way into the social media platform and other mode of circulation.
I am of the opinion that such act of leaking private legal video chat for ill motive purposes must be treated as criminal and should be stiffly punished by the relevant laws of the country. Such act can happen to anyone and must not be encouraged in the least proposition.
Assuming this has happened to the first and second gentlemen of the land and it was allowed in circulation for mischievous purposes, it could only expose how weak and unsafe our cyber security system is in the country.
Those calling for the resignation or removal from office of the minister, should rather condemn the act of leaking a harmless love chat between two adults for the purpose of blackmailing.
Mr Albert Kan Dapaah has indeed done nothing wrong, morally, legally, and by conditions of his office. He was in a simple video chat with his girlfriend, in there he did not disclose any information, or any security protocol that seems to suggest a breach of security of the country to his girlfriend, and I still want to emphasize that no law in Ghana forbid a national security minister from having a second wife or a girlfriend.
The call for his removal from office is completely a misplaced one. Instead the person who sort to denigrate the good reputation of the minister must be arrested and punished for breach of privacy.
Signed.
Samuel Nana Appiah Owusu,
Executive Director,
Global Intelligence and Security Analysis Center (GISAC)
0242239390
0302918170
Source: ghanapublisher.com
Man Vomits Money Profusely During A Ritual Process (VIDEO)
A young man has been caught in a viral video vomiting money during an alleged ritual process.
The viral video which is currently making rounds on social media has exposed a lot of crazy things these young men go through just to drive the nicest cars in town.
The video captures a young man believed to be in his early 20s vomiting money into a calabash.
A calabash full of money purportedly from the mouth of the young man is seen sitting right in front of him while he continues to vomit.
It is believed to be a ritual process that was recorded and later leaked online.
Watch the video below;
PLEASE HELP! The Shocking Thing I Saw In My Father's Wardrobe (Should I Be Worried?)
Hello guys, the background behind this story is lengthy so to spare you the trouble I'll jump straight to the point.
My father although he has his flaws is a very religious, and I dare say principled man in some aspects.
He never misses church service. Went to bible school.
At one point he was even a house fellowship leader. He prays and fast often.
So on this day I was standing in the doorway to my dads room.
He wanted to send me on an errand "I think", so he opened his wardrobe to get the money.
Immediately he opened his Wardrobe I saw a BAT…yes BAT hanging upside down right there in his wardrobe.
In shock, I jumped and shouted
"daddy see bat see bat !!!".
Guess what he did. He simply smiled and gently closed his wardrobe.
I have never been this confused. I saw a bat hanging upside down in his Wardrop and all he did was smile and gently closed the door.
I don't know what to make of it. I have already concluded, there is no way on earth this is from God.
Up until this time I have never seen a bat up close in real-time.
The closest I've been was to watch them on television. Contemplate how scared and confused I am now.
I picked up an excuse and ran out of the house to go stay with my relative. It's been a week since I left, and I'm still too scared to go back.
What do you folks make of this? How can a man who prays and fast and attends bible school have a BAT in his wardrobe? WTF !!
What Do You Think I Should Do?
'World's Dirtiest Man': Amou Haji Is An 87-Year-Old Man Who Hasn't Bathed In 67 Years
It's winter season and bathing seems like a task, doesn't it? Well, how long can you go without showering? A day or two maximum? Turns out, you are nowhere close to this man who hasn't bathed in over six decades.
Amou Haji is an 87-year-old man and he hasn't taken a bath in 67 years. He resides in Dejgah which is a village in the Kermanshah province of Iran. He also looks like the Biblical Moses who fell down a chimney. 
Republic News Agency
He is always covered in ash and dirt. He hasn't taken a bath for nearly seven decades because he is scared of water. He is of the belief that if he will bathe, he will fall ill.
What is even more unusual is that his diet consists of rotten meat of dead animals, especially porcupines. He also enjoys smoking but it is not tobacco he prefers. He likes to smoke animal feces out of a rusty pipe.
According to Tehran Times, Haji decided to live an isolated life after he went through some emotional setbacks in his youth.
He wears a war helmet not to fight off enemies but to keep him warm during winters.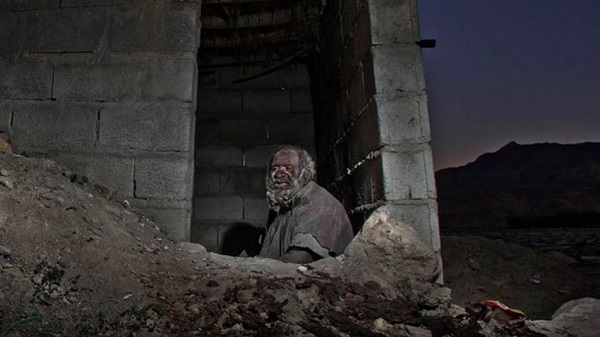 Human beings are complicated creatures.