Lady attempted suicide after pastor mistakenly shared her naked photos in church's Whatsapp group – ghanapublisher.com
A Nigerian lady, Rita Abang was allegedly stopped from committing suicide after her Pastor allegedly shared her nude photos in their Church's Whatsapp group.
The cleric who allegedly shared the nude photos is said to be a Pastor of Living Faith Church a.k.a Winners Chapel. The lady who shared a suicide post on Whatsapp, Twitter and Facebook, was reportedly found with 4 bottles of poisonous insecticide, Sniper.
Rita Abang wrote;
#HeyBabe I know suicide is bad, but I have no option than this. I love my parents and my little girl. By tomorrow I will be dead. Know that this man Francis Moses Ukugha is the fault. How can you tarnish my image and post my share my naked pictures on our church WhatsApp group."
Twitter user @pricelesscindy however confirmed that the lady was saved from committing suicide and now closely watched by family members.
She tweeted;
"#Chioma Nobody should ever joke with a suicide thought, my friend made a post yesterday about taking her life on twitter, Facebook and WhatsApp status. She is closely watched by her family members, after thorough search four bottles of snipers was found in her possession."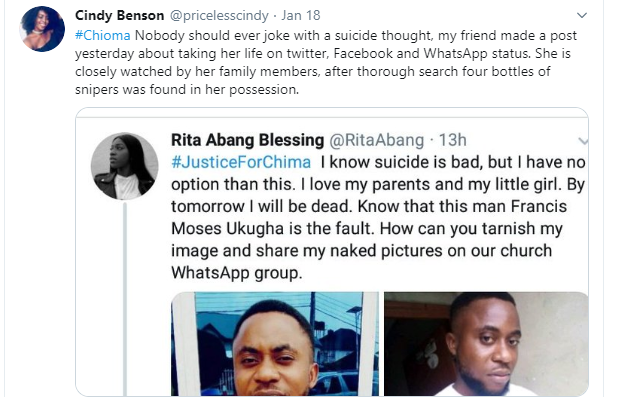 VIDEO: I fell in love with Mahama, not NDC – Afia Schwarzenegger
Meet The Police Woman Who Is Called The Most Beautiful And Curvy Police Officer In Africa (Photos)
African women are naturally blessed by God with all that human can desire, ranging from beauty, hardwork, character and many other attributes which beautifies an African woman. For quite some time, a police woman has been making waves online after her pictures surfaced online and got people loving how she dresses for work. According to people online, she has to be the most beautiful and curvy police woman in Africa.
Meet Ama Serwaa Dufie, a Ghanaian police woman tagged the most beautiful and curvy police officer in Africa and her pictures is one that always trend on social media each time she shares one. Ama Serwaa Dufie was born on the 20th of December (Year of birth unknown) and she refers to herself as the Ghana Police Celebrity and independent woman.
Check out some dashing and beautiful photos of Ama Serwaa Dufie, the alleged most beautiful police woman in Africa.
M
Ama Serwaa Dufie doesn't just look dashing only in her police and work uniforms, she knows how to slay in casual wears too that you can easily mistake her to be a professional model if you are not told she is a police woman. See some photos of her on mufti and casual wears below:-
Note: She is being called the most beautiful and curvy police woman in Africa doesn't mean it's an official honour. It's just the term fans and other online users tag her for the beauty and hardwork she possesses.
Isn't she beautiful and ambitious ?. Your thoughts ?. Kindly leave a comment on the comment section below and don't forget to share and follow us for more information updates, entertainment updates and celebrity gists around Nigeria.
PY-NYAAQ – OBU ME GWƐ ft FREEZY [Official Video]
Musician PY-NYAAQ has released another video for his new song titled 'OBU ME GWƐ'. The video was directed by QB Nana Atuahene.
The song features FREEZY.
'OBU ME GWƐ' is one of his songs which is set to pave way for his upcoming projects with other big stars in and outside the country.
Known in real life as Papa Nyarko, he was on highlife pioneer Kwick Action's first compilation with Stonebwoy and also on Slip Music's compilation with Oheneba Kisi, Ex Doe, and Nana Quame of 'Asewo Konofuor' fame back in the early days of Highlife.
PY-NYAAQ has had several performances and shared stages with stars like Slim Buster and Prince of Buk Bak.
Watch below: