Lady attempted suicide after pastor mistakenly shared her naked photos in church's Whatsapp group – ghanapublisher.com
A Nigerian lady, Rita Abang was allegedly stopped from committing suicide after her Pastor allegedly shared her nude photos in their Church's Whatsapp group.
The cleric who allegedly shared the nude photos is said to be a Pastor of Living Faith Church a.k.a Winners Chapel. The lady who shared a suicide post on Whatsapp, Twitter and Facebook, was reportedly found with 4 bottles of poisonous insecticide, Sniper.
Rita Abang wrote;
#HeyBabe I know suicide is bad, but I have no option than this. I love my parents and my little girl. By tomorrow I will be dead. Know that this man Francis Moses Ukugha is the fault. How can you tarnish my image and post my share my naked pictures on our church WhatsApp group."
Twitter user @pricelesscindy however confirmed that the lady was saved from committing suicide and now closely watched by family members.
She tweeted;
"#Chioma Nobody should ever joke with a suicide thought, my friend made a post yesterday about taking her life on twitter, Facebook and WhatsApp status. She is closely watched by her family members, after thorough search four bottles of snipers was found in her possession."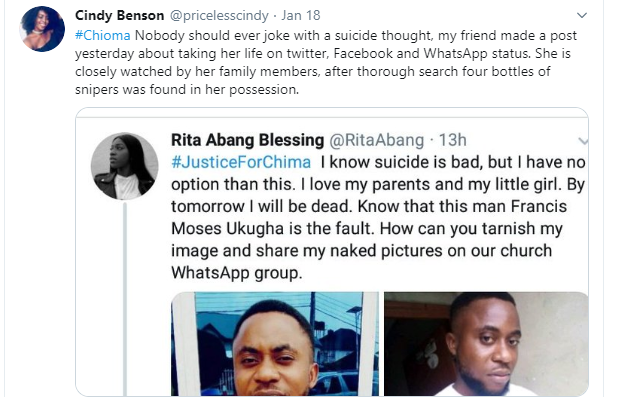 Marriage To Jesus Christ Is The Only One That Can Last Forever, Any Other Marriage Is A Scam– Kenyan Model
Popular Kenyan socialite, Huddah Monroe, has declared that she's ready to lend her womb and carry a child for any man who will will pay her well.
Huddah who is of the opinion that marriage is a scam added that a marriage  can only last if one is married to Jesus Christ himself.
Her statement was a reaction to the divorce of Meagan Good and her Husband, Devon Franklin. It can be recalled that American actress Meagan Good and her husband of 9 years, DeVon Franklin, recently announced their divorce.
Megan's husband, DeVon Franklin, filed for divorce on Monday, December 20, after nine years of marriage. He cited irreconcilable differences as the reason for the split.
Reacting to this news, Huddah Monroe, in a series of posts on her Instagram stories, wrote,
"Marriage can only last if you are married to Jesus Christ himself. I am ready to be a baby momma to a king who wants an ovary donation lol, No string attached.
"First of all men know they can never be loyal to one woman. And they claim it's biology. Talking about 'That's just how men are built' Fuck that. Stop giving blood pressure to women. Tell us straight up. I have 3 others. Will you be 4th?"
Beenie Man arrested in Ghana by National Security, here's why
Jamaican dancehall artiste, Beenie Man has been arrested in Ghana by the National Security, ghanaweekend.com reports. 
Ghanaweekends explains that the Jamaican great tested positive for COVID-19 upon arrival in Ghana on 19th December 2021 but 'jumped' quarantine and was seen granting interviews ahead of the.
Bhim Concert was held on 21st December 2021 at the Grand Arena of the Accra International Conference Centre.
In a previous report, we said year's edition was augmented by the presence of Jamaican superstar Beenie Man who previously collaborated with Stonebwoy on their mega hit song, 'Shuga.'
The international star put up an epic performance that greatly impressed the hundreds of music lovers and Bhim Natives who stormed the venue to revel in the annual program which has been designed as a prelude to the festive season.
Stonebwoy's godfather Samini, despite the prevailing animosity which brewed between them, made a surprise appearance that bolstered the charged atmosphere.
And history was made between @samini_dagaati @KingBeenieMan and @stonebwoy at bhim concert

Stonebwoy | #BhimConcert21 | Shatta Wale | Beenie Man | Samini | Twene Jonas | Blacko | Kwesi Authur pic.twitter.com/Qjzx4Uknde

— #ghoztNation 🦂 (@kofighozt) December 22, 2021
Beautiful Young Girls Seen Grinding Random Men At A Public Event (VIDEO)
This current crop of young people has completely lost their moral values as many of them keep doing disgraceful things all in the name of catching attention on social media.
In a video that has been sighted online, a group of young girls believed to be in their early 20s or late teens were seen grinding some random men at what seems to look like a Mall.
In the video, the young girls were twerking on the men who were lying down calmly as the ladies did their magic.
The interesting part of the video was that a bunch of adults were cheering them on as they did their thing.
Watch the sad video below;