Man Attends Celebrity Wedding With Six 'Girlfriends', All Allegedly Pregnant With His Babies
Nigerian socialite Mike Eze-Nwalie Nwogu, aka "Pretty Mike", sparked controversy after attending a high-profile wedding accompanied by six heavily pregnant women, all allegedly carrying his babies.
Describing the women as his "six baby mothers to be", Pretty Mike was filmed rubbing and kissing each of their bellies at the wedding of Nigerian actor Williams Uchemba to his girlfriend Brunella Oscar. The socialite, who owns a nightclub in Lagos, wore a pink suit, while his six dates put on matching long silver dresses or two-piece outfits that emphasized their baby bumps.
"No film trick… we are just living our best life," Pretty Mike captioned a photo of him with the six women on Instagram, after being accused of staging the whole thing for clout. To be fair, the Nigerian playboy has been known to pull off some crazy stunts for attention, like in 2017, when he was arrested for walking around with young women on a leash.
After the 2017 incident, Mike reportedly signed an undertaking to "stop whatever act of putting girls on a leash or any other degrading treatment to ladies and guys," but critics are accusing him of pulling off the same type of madness again.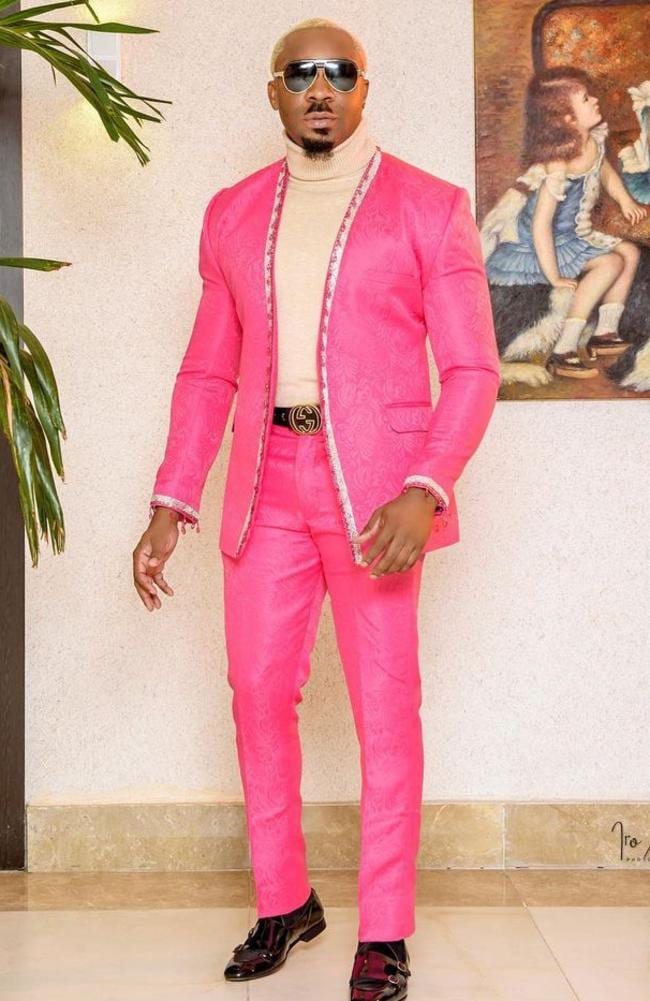 Photo: Pretty Mike of Lagos/Instagram
"This is one reason I must have heavy military presence at my wedding venue. You'll not come and chase clout on my special day," one person commented on social media.
This is definitely not the first time Pretty Mike shocked his fans, and it probably won't be the last. Last year, he posted a shot of himself with five brides, writing that his dream was to marry two of his ex's and three girlfriends.
"We all have dreams and we all have fantasies … I have lived some of my fantasies in my various entrances…. but one of my dreams have always been to marry 5 special women in my life 2 of my ex's and 3 of my current girlfriends. Dey are all special to me somehow. The question is, what do men really want? I am fulfilled knowing I had the chance to express myself in this illusion," the Nigerian social media star wrote.
Breaking: Shatta Wale with Nima guys beats road contractor allegedly, Video – ghanapublisher.com
The self acclaimed Dance Hall King in Ghana, Charlse Nii Armah Mensah popularly known in the entertainment industry as Shatta Wale has allegedly organized some Nima boys to beat a road contractor.
In a viral video, a narrator who recorded the incident said the musician got to the exact place where the road construction was ongoing and was prevented from plying the road because is under construction and can not be used, he want and later came with the Nima Boys to cause distraction at the construction side.
Some Ghanaians are saying Shatta Wale planned it because he has not been in the news after returning from America and this is the only thing he can do to seek attention from Ghanaians .
watch the video below
Actress Stella Damasus Shares Lovely Photos With Her Grown-Up Daughters
Nigerian actress, Stella Damasus shared these lovely photos of herself posing with her grown-up daughters, Izzy Belle and Angelica to celebrate herself on Mother's Day.
She wrote in her caption: "I love you guys so much. You make it so easy to be a mother. I am so blessed for this gift that God gave me. You guys rock."
See full photos below. 
Hot Gossip!: Dr. Kwaku Oteng Allegedly Begged Akua GMB For A Come Back + Bought Her A House And Car As Stacey Amoateng Suffers Dismissal
Hot Gossip!: Dr. Kwaku Oteng Allegedly Begged Akua GMB For A Come Back + Bought Her A House And Car As Stacey Amoateng Suffers Dismissal
Reports reaching our desk has it that the CEO of ABN enterprise and Adonko group of companies, Dr. Kwaku Oteng has gone back to his 4th wife Akua Amoakowoah to beg her for a come back.
According to our source the rich man didn't end at just begging but he added a new house and a new car as a form of compensation to Akua. It is said that Stacey Amoateng might lose her job now that Akua is back in the life of Dr. Kwaku Oteng.
Recall that months ago Stacey Amoateng was accused and heavily trolled on social media for being the master mind behind Dr. Kwaku Oteng and his wife's breakup. Gossip mongers claimed that Stacey did that because she wanted the position Akua occupied at GMB.
Well, things seem to be taking a different direction now.
SEE POST BELOW: