Man Attends Celebrity Wedding With Six 'Girlfriends', All Allegedly Pregnant With His Babies
Nigerian socialite Mike Eze-Nwalie Nwogu, aka "Pretty Mike", sparked controversy after attending a high-profile wedding accompanied by six heavily pregnant women, all allegedly carrying his babies.
Describing the women as his "six baby mothers to be", Pretty Mike was filmed rubbing and kissing each of their bellies at the wedding of Nigerian actor Williams Uchemba to his girlfriend Brunella Oscar. The socialite, who owns a nightclub in Lagos, wore a pink suit, while his six dates put on matching long silver dresses or two-piece outfits that emphasized their baby bumps.
"No film trick… we are just living our best life," Pretty Mike captioned a photo of him with the six women on Instagram, after being accused of staging the whole thing for clout. To be fair, the Nigerian playboy has been known to pull off some crazy stunts for attention, like in 2017, when he was arrested for walking around with young women on a leash.
After the 2017 incident, Mike reportedly signed an undertaking to "stop whatever act of putting girls on a leash or any other degrading treatment to ladies and guys," but critics are accusing him of pulling off the same type of madness again.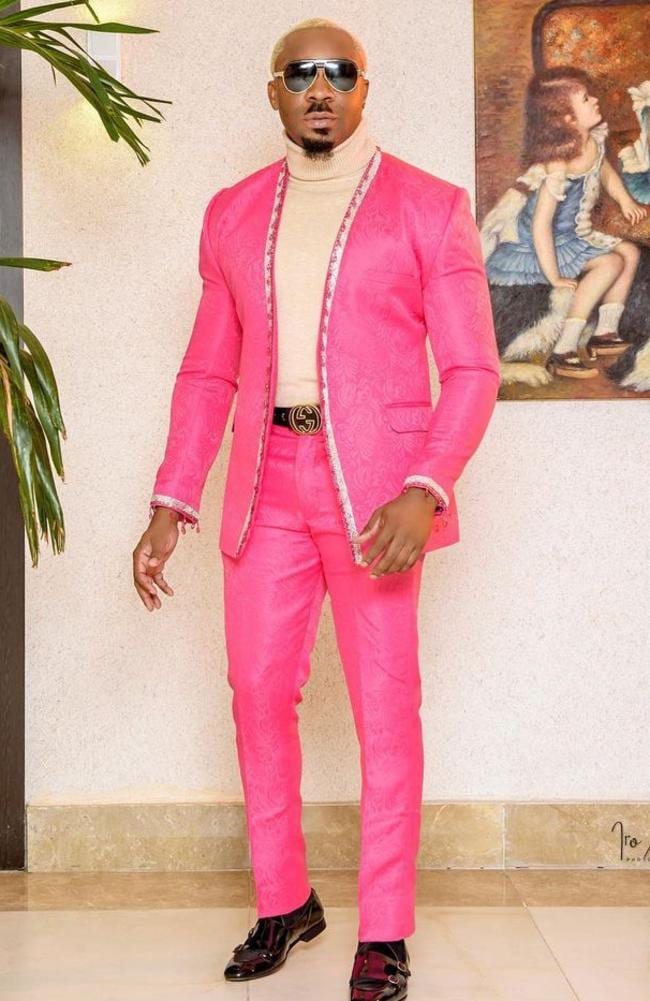 Photo: Pretty Mike of Lagos/Instagram
"This is one reason I must have heavy military presence at my wedding venue. You'll not come and chase clout on my special day," one person commented on social media.
This is definitely not the first time Pretty Mike shocked his fans, and it probably won't be the last. Last year, he posted a shot of himself with five brides, writing that his dream was to marry two of his ex's and three girlfriends.
"We all have dreams and we all have fantasies … I have lived some of my fantasies in my various entrances…. but one of my dreams have always been to marry 5 special women in my life 2 of my ex's and 3 of my current girlfriends. Dey are all special to me somehow. The question is, what do men really want? I am fulfilled knowing I had the chance to express myself in this illusion," the Nigerian social media star wrote.
Marriage To Jesus Christ Is The Only One That Can Last Forever, Any Other Marriage Is A Scam– Kenyan Model
Popular Kenyan socialite, Huddah Monroe, has declared that she's ready to lend her womb and carry a child for any man who will will pay her well.
Huddah who is of the opinion that marriage is a scam added that a marriage  can only last if one is married to Jesus Christ himself.
Her statement was a reaction to the divorce of Meagan Good and her Husband, Devon Franklin. It can be recalled that American actress Meagan Good and her husband of 9 years, DeVon Franklin, recently announced their divorce.
Megan's husband, DeVon Franklin, filed for divorce on Monday, December 20, after nine years of marriage. He cited irreconcilable differences as the reason for the split.
Reacting to this news, Huddah Monroe, in a series of posts on her Instagram stories, wrote,
"Marriage can only last if you are married to Jesus Christ himself. I am ready to be a baby momma to a king who wants an ovary donation lol, No string attached.
"First of all men know they can never be loyal to one woman. And they claim it's biology. Talking about 'That's just how men are built' Fuck that. Stop giving blood pressure to women. Tell us straight up. I have 3 others. Will you be 4th?"
Beenie Man arrested in Ghana by National Security, here's why
Jamaican dancehall artiste, Beenie Man has been arrested in Ghana by the National Security, ghanaweekend.com reports. 
Ghanaweekends explains that the Jamaican great tested positive for COVID-19 upon arrival in Ghana on 19th December 2021 but 'jumped' quarantine and was seen granting interviews ahead of the.
Bhim Concert was held on 21st December 2021 at the Grand Arena of the Accra International Conference Centre.
In a previous report, we said year's edition was augmented by the presence of Jamaican superstar Beenie Man who previously collaborated with Stonebwoy on their mega hit song, 'Shuga.'
The international star put up an epic performance that greatly impressed the hundreds of music lovers and Bhim Natives who stormed the venue to revel in the annual program which has been designed as a prelude to the festive season.
Stonebwoy's godfather Samini, despite the prevailing animosity which brewed between them, made a surprise appearance that bolstered the charged atmosphere.
And history was made between @samini_dagaati @KingBeenieMan and @stonebwoy at bhim concert

Stonebwoy | #BhimConcert21 | Shatta Wale | Beenie Man | Samini | Twene Jonas | Blacko | Kwesi Authur pic.twitter.com/Qjzx4Uknde

— #ghoztNation 🦂 (@kofighozt) December 22, 2021
Beautiful Young Girls Seen Grinding Random Men At A Public Event (VIDEO)
This current crop of young people has completely lost their moral values as many of them keep doing disgraceful things all in the name of catching attention on social media.
In a video that has been sighted online, a group of young girls believed to be in their early 20s or late teens were seen grinding some random men at what seems to look like a Mall.
In the video, the young girls were twerking on the men who were lying down calmly as the ladies did their magic.
The interesting part of the video was that a bunch of adults were cheering them on as they did their thing.
Watch the sad video below;