Nonkanyiso Conco Who Lost Her V1rginity To Former President Jacob Zuma Speaks Out
Nonkanyiso Conco was once one of Jacob Zuma's best-kept secrets, but now she's giving South Africans access to her life.
Conco, who shot to prominence in 2018 when she was revealed as Zuma's latest fiancée, is part of the cast of the new 1Magic show The Real Housewives of Durban.
She had a child that year with Zuma, who at 78 is more than three times her age, but last year there were reports that the relationship was over.
Allwill be revealed on the show, which is due to air its first episode on January 29, with producers promising to showcase the lives of Durban's wealthy.
Conco will be joined by Sorisha Naidoo, the wife of billionaire businessman Vivian Reddy; Kgomotso Ndungane, the wife of former Sharks and Springbok rugby player Odwa; Ayanda Ncwane, the widow of gospel legend Sfiso Ncwane; Anne-Tonni Lodick Mthembu, the wife of Durban businessman Kgolo Da Guru; and Durban businesswoman Nonku Williams.
"This show was definitely a surprise when I was approached," said Conco.
"I must say, whatever critics said about me stays with them. I don't have control of what people say about my life or my name. The only control I have is being authentic to my truth."
Conco is believed to be in her mid20s but declined to disclose her age because she "enjoys seeing people assuming it and making up stories".
Her engagement to Zuma saw her join a turbulent polygamous family that includes four current wives — Gertrude Sizakele Khumalo, Tobeka Madiba-Zuma, Bongi NgemaZuma and Nompumelelo Zuma, who is estranged from the former president.
The mother of Duduzile and Duduzane Zuma, Kate Mantsho Zuma, died in 2000. The former president was also once married to cooperative governance & traditional affairs minister Nkosazana Dlamini-Zuma. They divorced more than 20 years ago.
Conco said: "It is unfortunate that the media has portrayed its image of who I am. Through this show viewers will get to experienceme, bearing in mind the show has a format and one has to follow, though it's out of my character and [a] culture shock."
She said that shooting the first couple of scenes was overwhelming, but after her nerves calmed she eventually became comfortable.
"I'm a quick absorber and have adapted to the changes around my personal space.
"I hope that people get to see how important it is to be genuine and stand by your truth. I have opened my heart to edify the nation that being engaged/married to a prominent figure doesn't mean [living] under his shadow but embrace your own potentials and capabilities, have purpose and vision."
If there is one thing she wants to teach South Africans about herself it's that "no matter what noise is around you, stay true to who you are".
"I've been cyber-bullied, deeply so after giving birth to my son, and at first it was overwhelming because I'm human," she said.
"One of the best lessons I've learnt from my fiancé is emotional intelligence, hence I've kept silent because I know my truth andwho I am and notwhat the media has insinuated.
"I have never [thought] that I will ever cross paths with such a calm and wise being. I always knew deep down [in] my heart that one day the world will have a chance to meet me."
Apart from shooting the reality show, Conco mentors and guides young men and women holistically on life awareness and educates them on social ills through a programme called Sikhanyisa Isizwe (Enlightening the Nation).
Two years ago, Conco also started hosting seminars called Women in Conversation with LaConco.
"My purpose and vision for the youth is to make impactful and positive decisions on their lives. [During the seminars] I gather different experts from different sectors to engage with women seated at the event," she said.
"I've learnt that at many gatherings of women energy is mostly [focused] on taking pictures, makeup and dressing up," she said. "Speakers [leave] without guests engaging and venting out their pains and being empowered."
Another project close to her heart is a body products business.
"I've launched a luxurious skin-care range, LaConco Naturals, that is made with mango and shea butter infused with essential oils. It includes body butter, body bath crème soap, body scrub, and [ we are] launching scented candles soon."
– SundayTimes
Man Vomits Money Profusely During A Ritual Process (VIDEO)
A young man has been caught in a viral video vomiting money during an alleged ritual process.
The viral video which is currently making rounds on social media has exposed a lot of crazy things these young men go through just to drive the nicest cars in town.
The video captures a young man believed to be in his early 20s vomiting money into a calabash.
A calabash full of money purportedly from the mouth of the young man is seen sitting right in front of him while he continues to vomit.
It is believed to be a ritual process that was recorded and later leaked online.
Watch the video below;
PLEASE HELP! The Shocking Thing I Saw In My Father's Wardrobe (Should I Be Worried?)
Hello guys, the background behind this story is lengthy so to spare you the trouble I'll jump straight to the point.
My father although he has his flaws is a very religious, and I dare say principled man in some aspects.
He never misses church service. Went to bible school.
At one point he was even a house fellowship leader. He prays and fast often.
So on this day I was standing in the doorway to my dads room.
He wanted to send me on an errand "I think", so he opened his wardrobe to get the money.
Immediately he opened his Wardrobe I saw a BAT…yes BAT hanging upside down right there in his wardrobe.
In shock, I jumped and shouted
"daddy see bat see bat !!!".
Guess what he did. He simply smiled and gently closed his wardrobe.
I have never been this confused. I saw a bat hanging upside down in his Wardrop and all he did was smile and gently closed the door.
I don't know what to make of it. I have already concluded, there is no way on earth this is from God.
Up until this time I have never seen a bat up close in real-time.
The closest I've been was to watch them on television. Contemplate how scared and confused I am now.
I picked up an excuse and ran out of the house to go stay with my relative. It's been a week since I left, and I'm still too scared to go back.
What do you folks make of this? How can a man who prays and fast and attends bible school have a BAT in his wardrobe? WTF !!
What Do You Think I Should Do?
'World's Dirtiest Man': Amou Haji Is An 87-Year-Old Man Who Hasn't Bathed In 67 Years
It's winter season and bathing seems like a task, doesn't it? Well, how long can you go without showering? A day or two maximum? Turns out, you are nowhere close to this man who hasn't bathed in over six decades.
Amou Haji is an 87-year-old man and he hasn't taken a bath in 67 years. He resides in Dejgah which is a village in the Kermanshah province of Iran. He also looks like the Biblical Moses who fell down a chimney. 
Republic News Agency
He is always covered in ash and dirt. He hasn't taken a bath for nearly seven decades because he is scared of water. He is of the belief that if he will bathe, he will fall ill.
What is even more unusual is that his diet consists of rotten meat of dead animals, especially porcupines. He also enjoys smoking but it is not tobacco he prefers. He likes to smoke animal feces out of a rusty pipe.
According to Tehran Times, Haji decided to live an isolated life after he went through some emotional setbacks in his youth.
He wears a war helmet not to fight off enemies but to keep him warm during winters.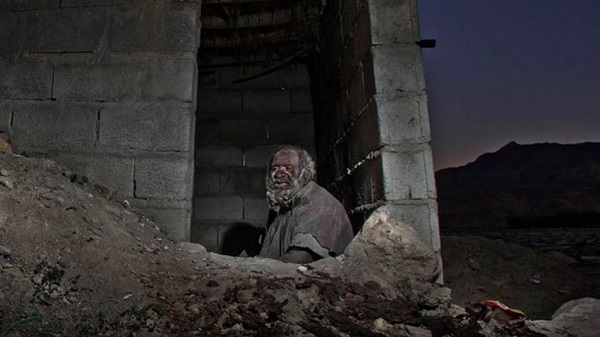 Human beings are complicated creatures.