Rockets hit Iraq military base hosting American troops
Rockets slammed into an Iraqi airbase north of Baghdad on Sunday where US troops have been based, wounding at least four Iraqi troops. No immediate information about American casualties was reported.
At least six rockets struck the Al Balad base, which hosts American trainers, advisers and a company that provides maintenance services for F-16 aircraft. Some projectiles fell on a restaurant inside the airbase, officials said.
The attack came just days after Iran fired ballistic missiles at two bases in Iraq that house US forces, causing no casualties.
A majority of US airmen stationed at the Al Balad airbase, 80km (50 miles) north of Baghdad, had already left, AFP news agency quoted military sources as saying.
Some shells hit the runway of the airbase while another shell struck the gate, said Colonel Mohammed Khalil, a police officer in the northern province of Saladin.
"Three Iraqi soldiers, who were on guard at the airbase gate, were injured as a result of the shelling," he said.
The Associated Press quoted one unidentified defence official as saying: "There are American experts, trainers and advisers at the base."
So far there was no claim of responsibility for the attack, which comes amid hightened tensions between the United States and Iran over the last two weeks.
Retaliation strike
Last week Iran launched missile attacks on two Iraqi airbases hosting US troops in retaliation for the killing of top Iranian commander Qassem Soleimani in a US drone strike in Baghdad.
The US and Iran recently stepped back from the brink of war following the killing of Soleimani. A senior Iraqi leader of an Iran-backed militia was also killed.
Iran's retaliatory attack for Soleimani's death hit two Iraqi bases, Ain al-Asad and Erbil, where American troops are based.
The limited Iranian strikes appeared to be mainly a show of force, and de-escalated tensions that had threatened to turn Iraq into a proxy battlefield.
Source: www.aljazeera.com
Breaking: Billionaires Bill Gates and wife Melinda to get divorced after 27 years – ghanapublisher.com
In a message on the Microsoft founder's Twitter account, the couple said they made the decision after "a great deal of thought and a lot of work on our relationship".
Gates, the fourth richest man in the world with a net worth of $130bn, married Melinda in January 1994.
"Over the last 27 years, we have raised three incredible children and built a foundation that works all over the world to enable all people to lead healthy, productive lives," they said.
"We continue to share a belief in that mission and will continue our work together at the foundation, but we no longer believe we can grow together as a couple in this next phase of our lives.
"We ask for space and privacy for our family as we begin to navigate this new life.
The couple, who married on a golf course on the Hawaiian island of Lanai, have three children together – Jennifer, Rory and Phoebe.
They live in an earth-sheltered mansion in the side of a hill overlooking Lake Washington in Medina, Washington.
Prince Philip's Funeral In Photos, See the only 30 attendants due to Coronavirus
The British royal family gathered Saturday for the funeral service of Prince Philip inside St. George's Chapel on the grounds of Windsor Castle, the first time they have appeared together in public in more than a year.
The funeral of Prince Philip, who died last week at age 99, was closed to the public and limited to just 30 people due to coronavirus-related restrictions.
Queen Elizabeth II, who was married to the Duke of Edinburgh for more than 73 years, sat alone during the service, donning a black face mask.
Prince Harry returned home for the services, making his first trip back to Windsor Castle since he and his wife, Meghan Markle, stepped away from the royal family in early 2020.
Tangent:
Prince Harry's wife, Meghan Markle, did not attend the services. Markle, who is pregnant with the couple's second child, was reportedly advised by her doctor to remain in California.
Crucial Quote:
"We have been inspired by his unwavering loyalty to our queen, by his service to the nation and the Commonwealth, by his courage, fortitude and faith," Rev. David Conner, Dean of Windsor, said during Saturday's funeral service. "Our lives have been enriched through the challenges that he has set us, the encouragement that he has given us, his kindness, humor and humanity."
Big Number:
100. Philip was mere weeks away from celebrating his 100th birthday when he died peacefully at home last Friday.
Prince Philip's funeral: William and Harry Set drama at the ceremony
The pair were seen leaving the service at Windsor Castle together along with the Duchess of Cambridge.
There has been limited contact between the brothers since Harry and his wife Meghan filmed a tell-all interview with Oprah Winfrey last month.
Harry had referenced reports that his relationship with his brother was strained, saying "the relationship is space at the moment" and that "time heals all things, hopefully".
In 2019, when asked about an alleged rift with William, Harry said he loved his brother dearly but they were "on different paths" and have "good days" and "bad days".
At their grandfather's funeral, the brothers were sat opposite each other, with William in a COVID bubble with his wife Kate and Harry sat alone.
The Duchess of Sussex, who is pregnant with the couple's second child, did not fly over from the US with Harry on the medical advice of her doctor.
Prince Harry has since been self-isolating at Frogmore Cottage after arriving back in the UK.
The funeral is the first time the Duke of Sussex has been seen publicly with the Royal Family following the bombshell interview with Oprah Winfrey.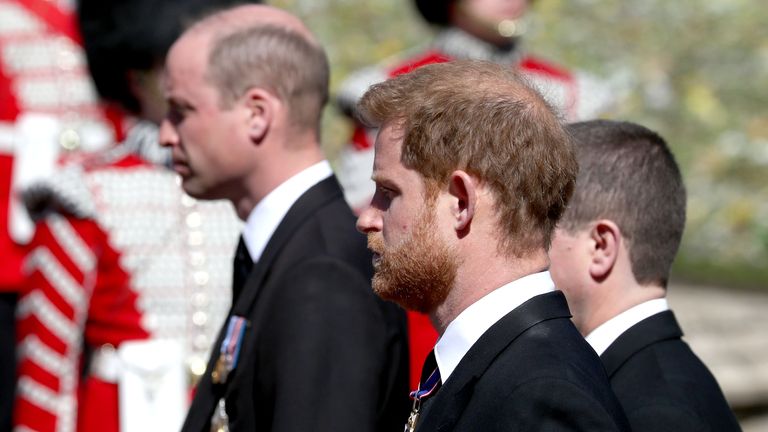 The interview saw Harry and Meghan accuse an unnamed member of the family of making racist remarks about their son Archie before he was born, and accuse the institution of failing to support the duchess.
Days later, Prince William defended the Royal Family, saying they were "very much not a racist family".
Before the funeral service, the brothers had walked in a procession within the grounds of Windsor Castle, either side of their cousin Peter Phillips.
Later, Harry was sat 10 seats away from his grandmother, the Queen, who was sitting alone at the front of the quire, closest to the altar.
Dressed in a face mask and in sombre black, the monarch's arrival at the ceremony was the first time she had been officially seen in public since the Duke of Edinburgh died eight days ago.
The congregation at Philip's funeral was limited to just 30 people due to COVID-19 restrictions.
A small group of Philip's close family and friends attended the televised funeral service, which began with a national minute's silence at 3pm.