The unprecedented performance of Hon. Afenyo-Markin in 2019 every MP must learn. – ghanapublisher.com
There is no doubt the Member of Parliament for Effutu Constituency in the Central Region, Hon. Alexander Kwamina Afenyo-Markin won the best performing MP during his first term in office when FAKS Investigative Services conducted a survey in 2014.
The Honorable Member has since kept his unprecedented performance which differentiate him from other colleague MP's. The list below shows work done by the MP in his constituency in the past 2019 year in Health, Education, Employment, Business, Roads, Sanitation, Security, Agricultural and Judicial Service.
EDUCATIONAL INTERVENTION
728 laptops to teachers in both public and private schools in the Effutu Municipality.
2,500 desks to schools in the Effutu Municipality
300 desks to Winnesec
Provision of desks at Old Library Surflet House.
Scholarships to 155 nurses and still counting.
Scholarships to 180 UEW students and still counting.
Scholarship Fund to 60 teachers in the Effutu Municipality.
Mathematical Sets for All BECE candidates 2019.
EDUCATIONAL INFRASTRUCTURE
LIBRARIES
WONSOM completed and commissioned
Ansaful 100% completed and commissioned
Gyangyanadze 80% completed
Atekyedo 70% completed.
UNIPRA North 100% completed.
NVTI ICT Center and pavilions completed
CLASSROOM BLOCKS
Ansaful JHS Block completed.
Atekyedo JHS. 80% completed.
COMMUNITY CENTERS
Zongo 100% completed and commissioned
2 Sekedjano 100% completed and commissioned.
Ansaful 90% completed
Sankor 70% completed
Ekroful 80% complete
Ensuakyir 70% completed
7 Atekyedo 90% completed
Kojobedu 40% completed
Akosua Village
HEALTH
One Ambulance to the Municipal Hospital
Expansion of Municipal Hospital's Theater
Renovation of Municipal Hospital's maternity ward.
Mothers' hostel at Municipal Hospital.
Donation of hospital equipment to Ensuekyir CHIPS compound.
Medical bills' support to thousands of patients.
Over 10,000 NHIS cards to Effutu's constituents.
50 electrical hospital beds donated.
New Neo-natal Clinic at Effutu Municipal Hospital's Children's ward commissioned.
CHIPS COMPOUNDS
CHIP Compound 100% completed and commissioned at Wunsom.
CHIP Compound 70% completed at Gyahadze.
Akosua Village – commenced
Warabeba – commenced
Ateitu- commenced
Ansaful- commenced
JUDICIAL SERVICE
Renovation of old court building, Winneba.
Lobbied for the new High Court.
AGRICULTURE
Tractor for the rural communities.
16 pumping machines for farmers.
Cash and fertilizers for vegetable farmers in the Municipality.
310 outboard motors for fishermen.
GHC 500.00 each financial support for 650 fishermen and still counting.
GHC 500.00 financial support for pig farmers.
Farming equipment to Sankor farmers plus a support of GHC20,000.00
11 Tricycles for farmers in Winneba.
SANITATION
Renovation of bathroom and standing pipe at Ofunyamu.
Erection of public standing pipe at Domeabra.
Provision of modern toilet facilities at:
Sankor
Ataitu
Gyangyanadze
Akosua Villag
.Yepimso "A"
Yepimso "B"
Boat Yard "A"
Boat Yard "B"
Osubonpanyin
BUSINESS
GHC100,000.00 to Mobile Money vendors.
2. GHC1000.00 for drinking bar operators.
3. GHC500.00 each fot 75 Nkwantanan market women.
4. GHC 500.00 each for 150 fish sellers at 'One Way' Market.
5. 400 deep freezers distributed to constituents.
6. 28 sets of musical gadgets for Spinners Association in Winneba
7. 150 Gas Stoves & Cylinders for Indomie sellers in Winneba
EMPLOYMENT
150 taxis distributed on work and pay basis.
285 ardbord motors distributed.
3,206 sewing machines distributed.
2,850 hairdryers distributed.
250 masonry tools distributed.
250 carpentry tools distributed.
215 industrial machines to Taiilors and Hairdressers Association.
ZONGO COMMUNITY
Sponsorship of Muslims to Mecca.
2.Provision of Polytank and P.A system for Fulani Mosque at Winneba Junction.
ROADS
Anglican Church to Cops Junction
Yepimso to Gyahadze road.
Gyatakrom- Ataitu road ongoing.
Sankor Junction – Ensuekyir, Gyahadze road.
Sakagyano-Yepimso road.
SECURITY
Renovation of Winneba Police Station.
Building of modern library at Command and Staff College.
Training of 62 community policing assistants.
11 Fire Service personnel
200 street lights
Training of 100 youth in City Guarding
Construction of 4 New Police Stations in Effutu.
Source: www.ghanapublisher.com
Man Vomits Money Profusely During A Ritual Process (VIDEO)
A young man has been caught in a viral video vomiting money during an alleged ritual process.
The viral video which is currently making rounds on social media has exposed a lot of crazy things these young men go through just to drive the nicest cars in town.
The video captures a young man believed to be in his early 20s vomiting money into a calabash.
A calabash full of money purportedly from the mouth of the young man is seen sitting right in front of him while he continues to vomit.
It is believed to be a ritual process that was recorded and later leaked online.
Watch the video below;
PLEASE HELP! The Shocking Thing I Saw In My Father's Wardrobe (Should I Be Worried?)
Hello guys, the background behind this story is lengthy so to spare you the trouble I'll jump straight to the point.
My father although he has his flaws is a very religious, and I dare say principled man in some aspects.
He never misses church service. Went to bible school.
At one point he was even a house fellowship leader. He prays and fast often.
So on this day I was standing in the doorway to my dads room.
He wanted to send me on an errand "I think", so he opened his wardrobe to get the money.
Immediately he opened his Wardrobe I saw a BAT…yes BAT hanging upside down right there in his wardrobe.
In shock, I jumped and shouted
"daddy see bat see bat !!!".
Guess what he did. He simply smiled and gently closed his wardrobe.
I have never been this confused. I saw a bat hanging upside down in his Wardrop and all he did was smile and gently closed the door.
I don't know what to make of it. I have already concluded, there is no way on earth this is from God.
Up until this time I have never seen a bat up close in real-time.
The closest I've been was to watch them on television. Contemplate how scared and confused I am now.
I picked up an excuse and ran out of the house to go stay with my relative. It's been a week since I left, and I'm still too scared to go back.
What do you folks make of this? How can a man who prays and fast and attends bible school have a BAT in his wardrobe? WTF !!
What Do You Think I Should Do?
'World's Dirtiest Man': Amou Haji Is An 87-Year-Old Man Who Hasn't Bathed In 67 Years
It's winter season and bathing seems like a task, doesn't it? Well, how long can you go without showering? A day or two maximum? Turns out, you are nowhere close to this man who hasn't bathed in over six decades.
Amou Haji is an 87-year-old man and he hasn't taken a bath in 67 years. He resides in Dejgah which is a village in the Kermanshah province of Iran. He also looks like the Biblical Moses who fell down a chimney. 
Republic News Agency
He is always covered in ash and dirt. He hasn't taken a bath for nearly seven decades because he is scared of water. He is of the belief that if he will bathe, he will fall ill.
What is even more unusual is that his diet consists of rotten meat of dead animals, especially porcupines. He also enjoys smoking but it is not tobacco he prefers. He likes to smoke animal feces out of a rusty pipe.
According to Tehran Times, Haji decided to live an isolated life after he went through some emotional setbacks in his youth.
He wears a war helmet not to fight off enemies but to keep him warm during winters.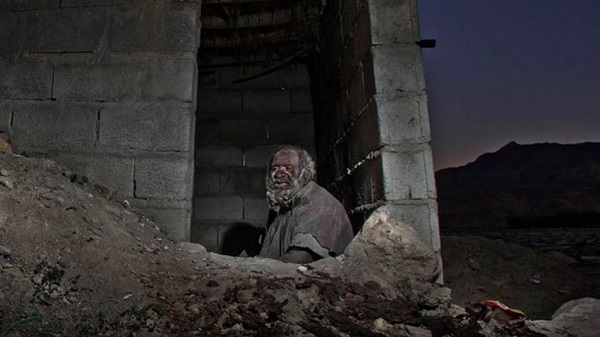 Human beings are complicated creatures.