Watch: Lady eats human excreta for GHC200k in Dubai
An unnamed lady whose quest to get money just like her colleagues landed her in an unforgettable experience during a fully paid weekend trip to Dubai.
According to the unknown lady, her rich colleague is an 'executive prostitute who plied her trade in Dubai where she spends some weekends and is bonked in turns by s3xually-starved Arabs who pay well.
The unnamed lady who has given a sorry account of her experience revealed she literally ate human excreta and s3xually abused among other inhumane treatment in return for $40,000 and an equivalent of GH¢200,000.
Watch video;
Read the story captured by MyNewsGh below:
"I called out a really good friend of mine for being a Porta-Potty after seeing her on The Dirty, and she admitted everything.

By the way, she is 22, drives a 2011 CL550 and owns a Condo in Newport Beach(not bad for a girl that didn't even graduate high school) so I wanted the same stuff.

I asked her a few months ago about it and she told me when something opens up she will let me know.

Christmas came and she told me that Jan. 5th there was a trip that she need 3 girls for, it paid a total of $40K for an ANYTHING goes trip to St. Bartz for a weekend. That is more than I make in a year, so I said f*ck it. My girl warned me, she said "Sh*t gets crazy"… I'm a freak in bed so I love it when sh*t goes crazy.

I was really thinking this is my new gig and this is easy as f*ck. Soon as my STD test came back negative, 4 hours later I had 8K transferred to my account. 3 of it for to get to St. Bartz and the remaining was my "deposit" which is the going rate at %12.5.

I was so happy… so I get there and soon as I get to the hotel room, there is a note telling me to be ready for dinner and going on the Yacht for 2 nights and that another %12.5 had been deposited and that I would be received the rest of my money $30k before I step on the plane home. $10K already for NOTHING Nik, I was thanking you.

Next day, we get on a 200 foot yacht… On it is my friend, me and 1 other girl, and 9 Arabian guys. I was starting to doubt what the hell I got into, 6 of them were fat and all of them were so hairy, It was intense. We start drinking to ease the nerves and the guys don't even pay attention to us or say anything. They just sat there and played board games and smoked cigars.

A few hours later one of their servants comes up and tells us its time. We all go into separate rooms, the servants tell us to get completely naked and lay on the bed and don't move. I was beyond f*cked up at the time and a million thoughts were running through my head.

3 of the guys came in the room and all of them were wearing robes, the first guy takes his robe off, makes me get closer to the edge of the bed and then he sticks it in me… 3 to 4 minutes later, he makes this weird yelling noise in Arabian, takes his d*ck out, jumps on the bed and then c*ms all over my face. I tried to wipe it out of my eye and he slaps my hand then slaps me so hard in the face that c*m splatters everywhere and yells at me to not move white b*tch.

So the next two guys take a little longer maybe 7 or 8 minutes and do the same. Now my face is just glazed, I hear all 3 walking out laughing and the servant comes to get me and tells me not to clean my face, takes my hand and walks me to the shower. I thought I was done, NOPE. While in the shower, my 3 guys come back in and literally just start pissing on me… My boyfriend is into Golden Shower's so it was nothing new for me. They basically cleaned my face off with their pee. 10 minutes later, I finally get to wash off, and that was it.

We sit down after we washed off had a great dinner, drank and did some more blow. Through out the night, different guys in groups of 1 to 4 would grab us take us in a room and have sex with us.. I wasn't bad at all.

The next night though, its when it got insane. After all day of out at sea and sex, the servants let us know tonight is the most import night so make sure we look our best. I walked into my sex room and it had plastic all on the bed, I figured they wanted to pee on me on the bed. So this time instead of 3 coming in the room, only 1 does. He has sex with me, c*ms all over my face again… and then Nik… he pops a squat and sh*ts all over my chest, and he was pushing it out it became really liquify and it got all over my face and in my mouth. I instantly pop up and start throwing up everywhere, he grabs me by my hair slaps me so hard, and tells me he is not finished. But I could not stop throwing up since I had poo in my mouth. With his broke English, he told me if he doesn't finish then I don't get paid. Right there and then, I never had missed my boyfriend more. I just wanted him to hold me and cuddle with me… I couldn't take it.

So all of Sunday, I was secluded from everyone else, fed only once and dropped back off at the dock with everyone. I was notified that I would not get paid my 30K owed due to the fact I didn't follow through. I don't even care, I still made 10K, but I just don't see how these girls can do that. Its like having sex with Chubacca and his pissing and sh*tting on you after.

THIS BUSINESS IS NOT FOR ME, Nik, thanks for getting it in my head that it is ok to be a Porta Potty because its not. I don't know how these girls do it over and over. Not worth the money or self-respect."
Man Vomits Money Profusely During A Ritual Process (VIDEO)
A young man has been caught in a viral video vomiting money during an alleged ritual process.
The viral video which is currently making rounds on social media has exposed a lot of crazy things these young men go through just to drive the nicest cars in town.
The video captures a young man believed to be in his early 20s vomiting money into a calabash.
A calabash full of money purportedly from the mouth of the young man is seen sitting right in front of him while he continues to vomit.
It is believed to be a ritual process that was recorded and later leaked online.
Watch the video below;
PLEASE HELP! The Shocking Thing I Saw In My Father's Wardrobe (Should I Be Worried?)
Hello guys, the background behind this story is lengthy so to spare you the trouble I'll jump straight to the point.
My father although he has his flaws is a very religious, and I dare say principled man in some aspects.
He never misses church service. Went to bible school.
At one point he was even a house fellowship leader. He prays and fast often.
So on this day I was standing in the doorway to my dads room.
He wanted to send me on an errand "I think", so he opened his wardrobe to get the money.
Immediately he opened his Wardrobe I saw a BAT…yes BAT hanging upside down right there in his wardrobe.
In shock, I jumped and shouted
"daddy see bat see bat !!!".
Guess what he did. He simply smiled and gently closed his wardrobe.
I have never been this confused. I saw a bat hanging upside down in his Wardrop and all he did was smile and gently closed the door.
I don't know what to make of it. I have already concluded, there is no way on earth this is from God.
Up until this time I have never seen a bat up close in real-time.
The closest I've been was to watch them on television. Contemplate how scared and confused I am now.
I picked up an excuse and ran out of the house to go stay with my relative. It's been a week since I left, and I'm still too scared to go back.
What do you folks make of this? How can a man who prays and fast and attends bible school have a BAT in his wardrobe? WTF !!
What Do You Think I Should Do?
'World's Dirtiest Man': Amou Haji Is An 87-Year-Old Man Who Hasn't Bathed In 67 Years
It's winter season and bathing seems like a task, doesn't it? Well, how long can you go without showering? A day or two maximum? Turns out, you are nowhere close to this man who hasn't bathed in over six decades.
Amou Haji is an 87-year-old man and he hasn't taken a bath in 67 years. He resides in Dejgah which is a village in the Kermanshah province of Iran. He also looks like the Biblical Moses who fell down a chimney. 
Republic News Agency
He is always covered in ash and dirt. He hasn't taken a bath for nearly seven decades because he is scared of water. He is of the belief that if he will bathe, he will fall ill.
What is even more unusual is that his diet consists of rotten meat of dead animals, especially porcupines. He also enjoys smoking but it is not tobacco he prefers. He likes to smoke animal feces out of a rusty pipe.
According to Tehran Times, Haji decided to live an isolated life after he went through some emotional setbacks in his youth.
He wears a war helmet not to fight off enemies but to keep him warm during winters.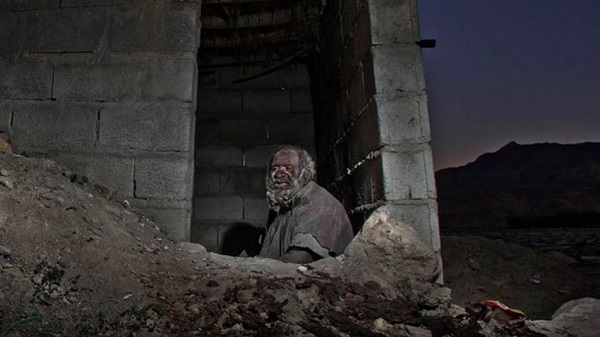 Human beings are complicated creatures.