Why is Akufo-Addo campaigning all-day, all-night if he has delivered? – Mogtari
Spokesperson of the presidential candidate of the National Democratic Congress (NDC) Joyce Bawah Mogtari has said the Akufo-Addo administration has failed the people of Ghana hence, the intensity of the campaign activities of the president to convince Ghanaians to vote for him in the December 7 elections.
She explained on the Key Points on TV3 Saturday, December 5 that if indeed, Mr Akufo-Addo has performed in the office, he should allow his records to speak for him.
She was reacting to the achievements of the president as touted by the Managing Director of the State Transport Company (STC) Nana Akomeah who also spoke on the same show.
Nana Akomeah had told host Abena Tabi that: "There is a lot more that has been achieved in the last four years.
"We have had the creation of new regions. This has been a national aspiration for a long time and today, it has been delivered to the people.
"The Dagbon peace. Since 2002 we all know the turmoil that have attended on our brothers and sisters in the Dagbon area and indeed, in the entire Northern region. Today, there is peace in Dagbon. It is a major achievement that is not lost on the people of Ghana.
"The iconic Obuasi Goldfields that was closed down. That iconic Goldfields is a promise that Akufo-Addo made and it has been kept. The mine has been opened and it has employed thousands of Ghanaians. The crisis leadership that has been showed with Covid is another."
But reacting to these comments, Madam Joyce Bawah Mogtari said "If life were perfect John Mahama and the NDC wouldn't be in competition.
"If the four years of the New Patriotic Party under Akufo-Addo had generated the honey and butter that they promised us in 2016, I am sure we would probably not be having this discussion and President Akufo-Addo would not be campaigning through the nights just as Mr Mahama is doing because he is in government."
She further revealed that the NDC has good plans to build the economy should the party win the elections.
"First we are going to invest heavily. $10 billion will be invested across board in all the key sectors."
Man Vomits Money Profusely During A Ritual Process (VIDEO)
A young man has been caught in a viral video vomiting money during an alleged ritual process.
The viral video which is currently making rounds on social media has exposed a lot of crazy things these young men go through just to drive the nicest cars in town.
The video captures a young man believed to be in his early 20s vomiting money into a calabash.
A calabash full of money purportedly from the mouth of the young man is seen sitting right in front of him while he continues to vomit.
It is believed to be a ritual process that was recorded and later leaked online.
Watch the video below;
PLEASE HELP! The Shocking Thing I Saw In My Father's Wardrobe (Should I Be Worried?)
Hello guys, the background behind this story is lengthy so to spare you the trouble I'll jump straight to the point.
My father although he has his flaws is a very religious, and I dare say principled man in some aspects.
He never misses church service. Went to bible school.
At one point he was even a house fellowship leader. He prays and fast often.
So on this day I was standing in the doorway to my dads room.
He wanted to send me on an errand "I think", so he opened his wardrobe to get the money.
Immediately he opened his Wardrobe I saw a BAT…yes BAT hanging upside down right there in his wardrobe.
In shock, I jumped and shouted
"daddy see bat see bat !!!".
Guess what he did. He simply smiled and gently closed his wardrobe.
I have never been this confused. I saw a bat hanging upside down in his Wardrop and all he did was smile and gently closed the door.
I don't know what to make of it. I have already concluded, there is no way on earth this is from God.
Up until this time I have never seen a bat up close in real-time.
The closest I've been was to watch them on television. Contemplate how scared and confused I am now.
I picked up an excuse and ran out of the house to go stay with my relative. It's been a week since I left, and I'm still too scared to go back.
What do you folks make of this? How can a man who prays and fast and attends bible school have a BAT in his wardrobe? WTF !!
What Do You Think I Should Do?
'World's Dirtiest Man': Amou Haji Is An 87-Year-Old Man Who Hasn't Bathed In 67 Years
It's winter season and bathing seems like a task, doesn't it? Well, how long can you go without showering? A day or two maximum? Turns out, you are nowhere close to this man who hasn't bathed in over six decades.
Amou Haji is an 87-year-old man and he hasn't taken a bath in 67 years. He resides in Dejgah which is a village in the Kermanshah province of Iran. He also looks like the Biblical Moses who fell down a chimney. 
Republic News Agency
He is always covered in ash and dirt. He hasn't taken a bath for nearly seven decades because he is scared of water. He is of the belief that if he will bathe, he will fall ill.
What is even more unusual is that his diet consists of rotten meat of dead animals, especially porcupines. He also enjoys smoking but it is not tobacco he prefers. He likes to smoke animal feces out of a rusty pipe.
According to Tehran Times, Haji decided to live an isolated life after he went through some emotional setbacks in his youth.
He wears a war helmet not to fight off enemies but to keep him warm during winters.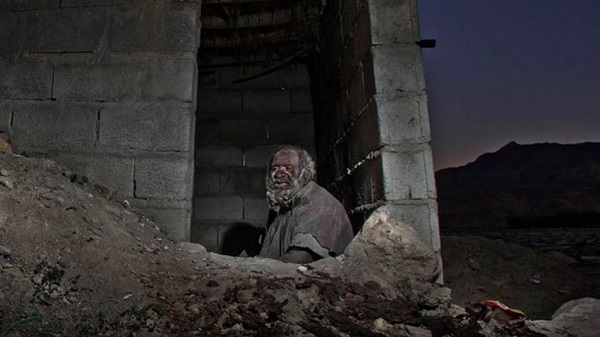 Human beings are complicated creatures.