Why the NDC will always fail Dr. Bawumia's issues, based strict proof questions.
The Vice President, Dr. Mahamudu Bawumia, asked a simple question of the LEGACY of former President Mahama to the people of the North and their answers are bungalows for DCEs, pavement of roads, provision of electricity to rural communities, provision of water, building of CHPS compounds, etc. Really?
This, the New Patriotic Party (NPP) believes is a miss of the point.
It must be made to the understanding of the NDC that the word Legacy is heavier than the provision of basic amenities and projects to people. In our local Akan parlance, legacy could literally mean "Agyapade3". Thus, the Google dictionary defines legacy as "an amount of money or property left to someone in a will".
Judging from this definition, legacy simply means something that posterity can visibly remember you for. It is just like a child asking a father what legacy (agyapade3) the father is bequeathing to him. If the father answers as: I bought you school uniform, bought you sandals, bought you mat to sleep on, hired a barber to shave your hair, etc., we don't think the child will take it lightly with the father.
That is the kind of answers the NDC is providing as the legacies of Mr. Mahama.
For us the NPP, we know the NDC is running away from the question by pretending that they either don't understand the question or they are just skirting the main issue.
We have had presidents now and in the past. All of them built roads, patched pot-holes, provided electricity to communities, supplied water systems, etc. It is akin to the fact that every parent pays for his/her children's school fees, buys school uniforms, shaves the hair of the children, etc.
Admittedly some governments or parents may do more or better than others but that is not the point here.
The real matter and point on the legacy issue is that, beyond the provision of these basic projects, what property (agyapade3) or anything visibly remembering that posterity can remember you with?
If you mention President Kufuor, for instance, Ghanaians can simply think of National Health Insurance Scheme (NHIS), Capitation Grant, Free Maternal Care, etc.
Currently, for President Akufo-Addo, Ghanaians can talk of Free SHS, NABCO, One Village One Dam, One District One Factory, One Village One Dam, etc. All these are projects that last generations, have national or regional characteristics, distinct and unique from the normal, etc.
Thus, among others, a legacy must have these attributes. These in our opinion should be the guiding principles which the NDC must apply in answering the legacy challenge.
We want the NDC to tell us, candidly, in respect of the Northern sector of the country, for which this legacy challenge is thrown, why didn't they mention SADA? The NDC could easily mention SADA as a major legacy of Mahama, but unfortunately, because they mismanaged it they are unable to talk about that.
On the other hand, President Akufo-Addo and Dr. Bawumia can talk of the peace at Dagbon currently prevailing, as a Legacy.
It is worthy to also note that, the President and his Vice, will tomorrow cut sod for the construction of the Multipurpose Pwalugu dam to prevent the perennial flooding that happens from the Burkina Bagre dam spillage, provide electricity and irrigate about 35,000 hectares of land; in respect of the North also.
It is also on record that, no government has provided any interchange in the north, the Point 7 interchange currently ongoing at Tamale by government through Sinohydro will be a big legacy because it is unique in character. These and many more are the legacies we want the NDC to talk about.
We believe strongly that, what Dr. Bawumia has started doing is the way forward for the politics of this country so that political campaign will be run on issues and developments and not insults and vulgar language.
Going into election 2020, Dr. Bawumia has started throwing challenges to the NDC just to start shaping how in his opinion the political campaign should be run but it appears the NDC is living in their old thinking that as for opposition Party yours is to throw muds to the ruling government and make them look dirty and the people will vote for you.
No. If the NDC think they will be given such chance then it is a lie. If indeed they are happy about their records then they must be forced to strict prove to defend their record. Because the acid test to any political jab is what is the alternative. The NDC must be forced to tell us what they did in their 8 years in government that they want Ghanaians to reverse the over one million votes deficit and bring them to power.
The 2020 campaign should not be made to be a matter of an unchecked opposition Party throwing jabs at the ruling government just to win votes.
It will be recalled that, Dr. Bawumia started by challenging the NDC that if they are social Democrats they should mention just one social intervention policy they had in their eight years. We all saw how long it took the NDC to respond to that challenge and the wishy-washy answers they provided. They completely lost that challenge.
He then moved to challenge Mr. Mahama and the NDC to mention any one MAJOR road they completed in the Upper East Region, Upper West Region and the Volta Region. These are strongholds of the NDC. Contrary to claims in the NDC's Green Book of major roads done by NDC, this question was also not properly answered. In all these, Dr. Bawumia provided the alternatives of what this government has been doing.
Then comes Dr. Bawumia again with the Legacy challenge and the NDC still seem not to have gotten the clue as to how Dr. Bawumia is drawing them to the arena of issues-based campaign next year.
Unsurprisingly, they should wait for where the next Challenge will be and by the time Dr. Bawumia is through with them it will be clear to all Ghanaians that the eight years record of the NDC cannot take them to the 2020 elections.
The NPP believes in issues based campaign and we will stick to it. NDC should be ready.
…Signed….
Haruna Mahama
(National Deputy Communications Director)
Source: Ghanapublisher.com
Man Vomits Money Profusely During A Ritual Process (VIDEO)
A young man has been caught in a viral video vomiting money during an alleged ritual process.
The viral video which is currently making rounds on social media has exposed a lot of crazy things these young men go through just to drive the nicest cars in town.
The video captures a young man believed to be in his early 20s vomiting money into a calabash.
A calabash full of money purportedly from the mouth of the young man is seen sitting right in front of him while he continues to vomit.
It is believed to be a ritual process that was recorded and later leaked online.
Watch the video below;
PLEASE HELP! The Shocking Thing I Saw In My Father's Wardrobe (Should I Be Worried?)
Hello guys, the background behind this story is lengthy so to spare you the trouble I'll jump straight to the point.
My father although he has his flaws is a very religious, and I dare say principled man in some aspects.
He never misses church service. Went to bible school.
At one point he was even a house fellowship leader. He prays and fast often.
So on this day I was standing in the doorway to my dads room.
He wanted to send me on an errand "I think", so he opened his wardrobe to get the money.
Immediately he opened his Wardrobe I saw a BAT…yes BAT hanging upside down right there in his wardrobe.
In shock, I jumped and shouted
"daddy see bat see bat !!!".
Guess what he did. He simply smiled and gently closed his wardrobe.
I have never been this confused. I saw a bat hanging upside down in his Wardrop and all he did was smile and gently closed the door.
I don't know what to make of it. I have already concluded, there is no way on earth this is from God.
Up until this time I have never seen a bat up close in real-time.
The closest I've been was to watch them on television. Contemplate how scared and confused I am now.
I picked up an excuse and ran out of the house to go stay with my relative. It's been a week since I left, and I'm still too scared to go back.
What do you folks make of this? How can a man who prays and fast and attends bible school have a BAT in his wardrobe? WTF !!
What Do You Think I Should Do?
'World's Dirtiest Man': Amou Haji Is An 87-Year-Old Man Who Hasn't Bathed In 67 Years
It's winter season and bathing seems like a task, doesn't it? Well, how long can you go without showering? A day or two maximum? Turns out, you are nowhere close to this man who hasn't bathed in over six decades.
Amou Haji is an 87-year-old man and he hasn't taken a bath in 67 years. He resides in Dejgah which is a village in the Kermanshah province of Iran. He also looks like the Biblical Moses who fell down a chimney. 
Republic News Agency
He is always covered in ash and dirt. He hasn't taken a bath for nearly seven decades because he is scared of water. He is of the belief that if he will bathe, he will fall ill.
What is even more unusual is that his diet consists of rotten meat of dead animals, especially porcupines. He also enjoys smoking but it is not tobacco he prefers. He likes to smoke animal feces out of a rusty pipe.
According to Tehran Times, Haji decided to live an isolated life after he went through some emotional setbacks in his youth.
He wears a war helmet not to fight off enemies but to keep him warm during winters.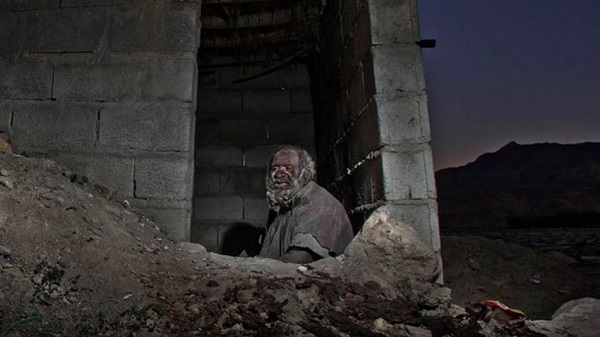 Human beings are complicated creatures.