'World's Dirtiest Man': Amou Haji Is An 87-Year-Old Man Who Hasn't Bathed In 67 Years
It's winter season and bathing seems like a task, doesn't it? Well, how long can you go without showering? A day or two maximum? Turns out, you are nowhere close to this man who hasn't bathed in over six decades.
Amou Haji is an 87-year-old man and he hasn't taken a bath in 67 years. He resides in Dejgah which is a village in the Kermanshah province of Iran. He also looks like the Biblical Moses who fell down a chimney. 
Republic News Agency
He is always covered in ash and dirt. He hasn't taken a bath for nearly seven decades because he is scared of water. He is of the belief that if he will bathe, he will fall ill.
What is even more unusual is that his diet consists of rotten meat of dead animals, especially porcupines. He also enjoys smoking but it is not tobacco he prefers. He likes to smoke animal feces out of a rusty pipe.
According to Tehran Times, Haji decided to live an isolated life after he went through some emotional setbacks in his youth.
He wears a war helmet not to fight off enemies but to keep him warm during winters.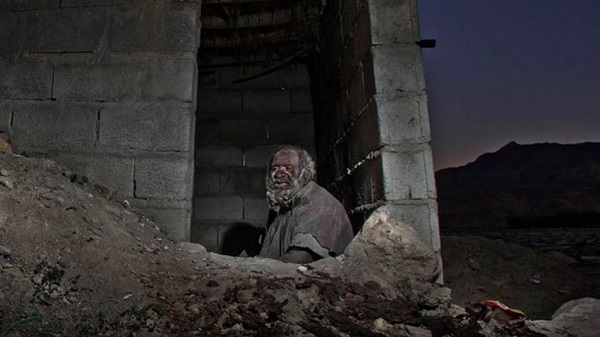 Human beings are complicated creatures.
I gave my boyfriend money to marry me and he married his side chic
Life experience will humble you, I mean most women have a life time plan, yet time frame will seem to oppose every plan drafted years ago, most women needs to settle in relationship, yet dating doesn't make it easy for them, being desperate for marriage might or will lead into embarrassment that can never be erased easily.
Time frustrated Pearl, she always believed in love; my friend got married at a young age, not to say am in a competition with her yet I always prayed for the same too, people I dated disappointed me; for some reasons I am convinced that a curse is upon me, Pearl said.
Her ex boyfriend seemed convincing yet things turned sideways when she found out that her boyfriend slept with her brother's wife, during Christmas eve and she decided to called it off.
After so many years of trying and failing in relationships, I then convinced myself that being single is my calling, yet I met my guardian angel, he rescued me on my way home from my friend's baby shower, from that night I noticed I still had some love remaining in me Pearl said.
Pearl was convinced that a man like him would love and protect her, yet she never knew it was a total opposite of what she desired, Pearl and Thabang dated for a year, and things seemed pretty good.
Thabang had no job yet I didn't want to loose him over that, all I wanted was a family with him, one night he came in my house and told me he found a job and I just thought it was the right time for us to take our relationship to the next step and get married. I gave him money to marry me, I know it's embarrasing please don't Judge me Pearl said.
Thabang had his hidden agenda; after receiving the money he disappeared and two months later Pearl saw wedding pictures of Thabang and his wife on facebook, Pearl approached Thabang for closure; I thought I would make things work with you yet you are too old for me, and my family would disown me Thabang responded. Pearl and Thabang reached agreement that Thabang will return the money. I tried all I can yet dating it's not for me Pearl concluded.
Global Diabetes Initiatives Gets Licensed And Registered
Global Diabetes Initiatives (A Diabetes Free Society) is fully registered as an Non Governmental Organization (NGO).
Residents all across the globe now have another way not to doubt but support the credible Diabetes Free Society as it is fully registered.
The foundation applied for a specialty license and registration to help further raise awareness of the issues of Diabetes as well to raise funds to support people with diabetic
"We would like to thank our Community Health Workers, our donors, the members of Global Diabetes Initiatives , and everyone who helped make this dream become a lifesaving reality," said Madam AC Matilda, founder and president of the Global Diabetes Initiatives (A Diabetes Free Society).
This initiative will give back to the community both in terms of improved health status and as an economic catalyst, moreover, it will serve as a symbolic reminder of the unlimited possibilities of what can happen when we work together in accomplishing a long-lasting legacy of saving lives and goodwill that continues to give back and have A Diabetes Free Society for the generations to come.
For more information about how to get involved in the fight against Diabetes, Kindly call or Whatsapp Madam AC Matilda, founder and president of the Global Diabetes Initiatives , at +353 83 164 4110 
or follow our social media handles below;
Join Our Facebook Group Here –> Global Diabetes Initiatives Group
Like Our Facebook Page Here –> Global Diabetes Initiatives
LAUTECH University Lecturer S3kz Tape Goes Viral (Video)
The Ladoke Akintola University of Technology (LAUTECH) is currently topping the Twitter trend following the release of another s3x tape allegedly involving one of its lecturers.
The footage which was put out on the microblogging platform shows a middle-aged man been filmed by a third party having his way with a lady whose face was shielded.
This is coming weeks after a young lady alleged to be a LAUTECH student was filmed in a series of leaked s3x footage.
However, the authorities of the university had denied knowledge of her, decrying how the public soil the name of the school.
The policy of this website does not permit us to upload the video directly, but you can click on the link below, as always, to watch the leaked videos.
CLICK HERE TO WATCH LAUTECH UNIVERSITY LECTURER LEAK TAPE
Source: gossips24.com