'World's Dirtiest Man': Amou Haji Is An 87-Year-Old Man Who Hasn't Bathed In 67 Years
It's winter season and bathing seems like a task, doesn't it? Well, how long can you go without showering? A day or two maximum? Turns out, you are nowhere close to this man who hasn't bathed in over six decades.
Amou Haji is an 87-year-old man and he hasn't taken a bath in 67 years. He resides in Dejgah which is a village in the Kermanshah province of Iran. He also looks like the Biblical Moses who fell down a chimney. 
Republic News Agency
He is always covered in ash and dirt. He hasn't taken a bath for nearly seven decades because he is scared of water. He is of the belief that if he will bathe, he will fall ill.
What is even more unusual is that his diet consists of rotten meat of dead animals, especially porcupines. He also enjoys smoking but it is not tobacco he prefers. He likes to smoke animal feces out of a rusty pipe.
According to Tehran Times, Haji decided to live an isolated life after he went through some emotional setbacks in his youth.
He wears a war helmet not to fight off enemies but to keep him warm during winters.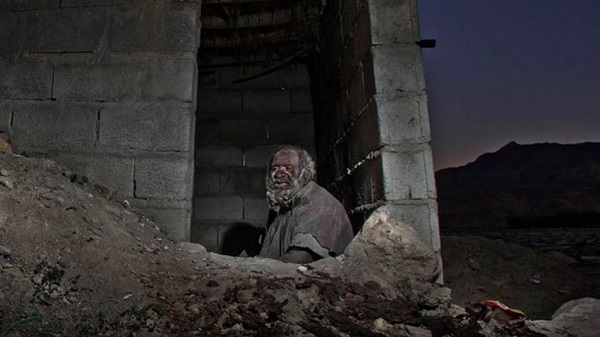 Human beings are complicated creatures.
QNET Limited Supports Ghana Police Hospital – ghanapublisher.com
QNET Limited Supports Ghana Police Hospital
The Managing Director of Rhinotrack Limited and Country Man Director of QNET Limited, Mr. George Anti-Ohene, has donated medical equipment to the Ghana Police Hospital on behalf of QNET Limited. The equipment include five (5) filled large 47.2 Kg Oxygen cylinders, three (3) Medical Regulators, Four (4) Wheelchairs and eleven (11) Crutches.
Mr. Anti-Ohene urged the Police hospital to put the equipment into good use to save lives as the company prepares to give more to assist in providing quality healthcare. ''I will be fulfilled to see that the items have saved at least one life'', he added.
COP Mr. George Alex Mensah, Director-General Services who received the donation on behalf of the Police Administration expressed gratitude to QNET Limited and appealed to other philanthropists to emulate the example. He was joined by the Acting Medical Director, DCOP Dr. Ewusi-Emmim, the Hospital Administrator DCOP Mr. David Eklu, the Director Finance, ACP Mr. Osei Akoto Arthur and other police officers.
How Vincent Tawiah, the iPhone Fraudster got arrested – ghanapublisher.com
The Police have arrested Vincent Tawiah, a 22year-old internet fraudster at Accra Mall for defrauding unsuspecting persons under the pretext of selling iPhones to them. He was arrested by officers of the National Police Operations Department on Monday 10th May, 2021.
Suspect's modus is to advertise the iPhones on Instagram and other social media platforms for prices ranging from One Thousand One Hundred Ghana Cedis (GH1,100.00) to Five Thousand Ghana Cedis (GH5,000.00), less than the market prices of iPhones. When contacted by interested persons, he would ask them to send mobile money to the mobile phone account number 0551978205 registered in the name of Rhydale Addae.
Police used one of his victims as a bait to arrest him. Other victims have since come forward to identify Vincent Tawiah as having defrauded them. The Police are therefore asking persons who have also been defrauded by the suspect whose picture is attached to this story, to report to the National Operations Department at the Police Headquarters, Ring Road Accra or call 0238894764.
Finance Ministry Signs GH₵382,000,000 Compact Agreement – ghanapublisher.com
Ministry of Finance signs two compact agreements for post Covid-19 transformation with Ministry of Tourism and Ministry of Trade & Industry.
On Tuesday, 11th May 2021, the Minister for Finance, Hon. Ken Ofori-Atta, the Ministry of Trade and Industry and the Ministry of Tourism, Arts and Culture signed a two Compact Agreement.
The Ministry of Trade will receive Two hundred and Eighty two million Ghana cedis ( Ghs282,000,000.00) to pursue various interventions which includes: building Ghana's light manufacturing industry, rolling out Agro processing and food import substitution, development of the pharmaceutical industry, support to distressed companies in strategic sectors, developing Ghana's automotive products and improve access for Ghanaian exporters under AfCFTA.
The Ministry of Tourism will also benefit from an amount of One hundred Million Ghana Cedis ( GHC 100,000,000.00) which will be used for addressing: Ghana's tourism infrastructure, transformation of our beaches, sector operators skills revitalization programmes, comprehensive marketing and brand promotion activities of our arts and culture among several others.
This funding supports are different from the Ministries 2021 budget rather, it forms part of measures under the Ghana CARES Obatampa program by President Akufo-Addo to get the economy back on track.
The Compact is a partnership agreement between the Ministry of Finance, as the Coordinating authority, and sector Ministries, under the supervision of the Inter-Ministerial Coordinating Committee (IMCC) to ensure effective and timely delivery of the targets set for the various Ministries under the CARES programme for the 2021 fiscal year.
Source: www.ghanapublisher.com